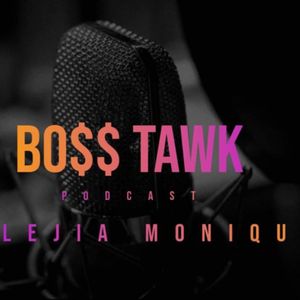 Everyone welcome to my podcast "Boss Tawk" and I am your host LeJia Monique Henry. Tune in while I get into entrepreneurship,financial freedom,generational curses,and everything BOSSY💕 Please subscribe,rate,&& review Find me on Instagram @LeJia.Henry Support this podcast:
https://podcasters.spotify.com/pod/show/bosstawk/support
Top 10 Bo$ Tawk Episodes
Best episodes ranked by Goodpods Users most listened
Show more
How many episodes does Bo$ Tawk have?
Bo$$ Tawk currently has 56 episodes available.
What topics does Bo$ Tawk cover?
The podcast is about Entrepreneurship, Podcasts and Business.
What is the most popular episode on Bo$ Tawk?

The episode title 'September 18,2020' is the most popular.

What is the average episode length on Bo$ Tawk?

The average episode length on Bo$$ Tawk is 13 minutes.

How often are episodes of Bo$ Tawk released?

Episodes of Bo$$ Tawk are typically released every 10 days, 18 hours.

When was the first episode of Bo$ Tawk?

The first episode of Bo$$ Tawk was released on Nov 8, 2018.

Show more FAQ
Comments
Rating