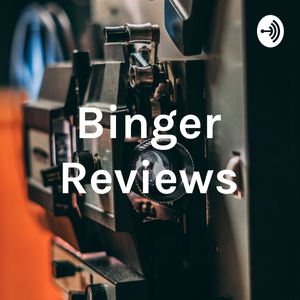 When people ask me if I went to film school I tell them: 'No, I went to films.' ~ Quentin Tarantino But in our day and age, there are just too many to watch them all, so I try to point you in the right direction. For quick reviews and essays visit: https://www.youtube.com/channel/UC4OzEG3AxNhQYmMubddRCAQ
Top 10 Binger Reviews Episodes
Best episodes ranked by Goodpods Users most listened
05/10/20 • 71 min
Since I am probably the only Sci-fi fan that hasn't watched every Star Trek episode, I am joined by my friend Thomas, who can correct me every time I say something that borders on heresy! Join us for a discussion about the new Amazon Original Star Trek series.
05/10/20 • 71 min
12/30/19 • 111 min
The sequel-trilogy is over, but we are not finished with it! Join us for a lengthy talk about the newest addition to one of our favorite sagas.
12/30/19 • 111 min
Show more
How many episodes does Binger Reviews have?
Binger Reviews currently has 2 episodes available.
What topics does Binger Reviews cover?
The podcast is about Podcasts and Tv & Film.
What is the most popular episode on Binger Reviews?

The episode title 'Startrek: Picard | Discussion and review of the first season' is the most popular.

What is the average episode length on Binger Reviews?

The average episode length on Binger Reviews is 92 minutes.

How often are episodes of Binger Reviews released?

Episodes of Binger Reviews are typically released every 131 days, 19 hours.

When was the first episode of Binger Reviews?

The first episode of Binger Reviews was released on Dec 30, 2019.

Show more FAQ
Comments
Rating