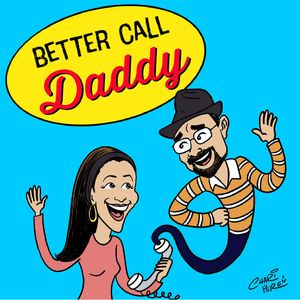 Better Call Daddy
Reena Friedman Watts

2 Creators
5.0
(99)

2 Creators
Reena loves a story, and she's fascinated by the people behind them. In fact, she loves to bring stories to life. Her appetite for storytelling has taken her from the Jerry Springer Show to the legal drama of the courtroom. From influential players to reality stars, nothing is censored here. Reena interviews people whose stories haven't been told, at least not through her unique lens, and then gets daddy's advice afterward. Whether you have daddy issues or a father who's inspired your path, you will be able to tap into my daddy's wisdom, wit, and humor at the end of every episode. My daddy has been a guiding light my whole life and there's not much he doesn't know, as an entrepreneur for forty-plus years, a husband, a loyal son, and my number one supporter. He has learned lots of life lessons along the way and is here to share them with you. It's time to reminisce and reflect on the conversations you'd like to have with your daddy and learn from mine. Come share in some good old fashioned family bonding. There is wisdom from four generations and I'm addressing what happens from childhood to adulthood!



24 Listeners
5.0
(99)
5 Comments
Top 10 Better Call Daddy Episodes
Best episodes ranked by Goodpods Users most listened
Show more
Curated by Reena Friedman Watts
How many episodes does Better Call Daddy have?
Better Call Daddy currently has 314 episodes available.
What topics does Better Call Daddy cover?
The podcast is about Society & Culture, Film Interviews, Podcasts, Relationships and Tv & Film.
What is the most popular episode on Better Call Daddy?

The episode title '288. Positive Vibes Magazine Led Zane Landin To The White House' is the most popular.

What is the average episode length on Better Call Daddy?

The average episode length on Better Call Daddy is 43 minutes.

How often are episodes of Better Call Daddy released?

Episodes of Better Call Daddy are typically released every 3 days.

When was the first episode of Better Call Daddy?

The first episode of Better Call Daddy was released on Jul 22, 2020.

Show more FAQ
Comments
99 Ratings
Jun 9
1 Like
Reena Friedman Watts
@reenafriedmanwatts
Feb 14
Like
Thomas Drake Scott
@Joy Schtick Show
Feb 9
1 Like
Reena Friedman Watts
@reenafriedmanwatts
Feb 14
@Joy Schtick Show you rock
Like
Olivia Dreizen Howell
@oliviahowell
Mar 11
Like