BECOMING UNBREAKABLE
Jason Horton
Learning and applying knowledge to become unbreakable in body, mind and spirit.
Top 10 BECOMING UNBREAKABLE Episodes
Best episodes ranked by Goodpods Users most listened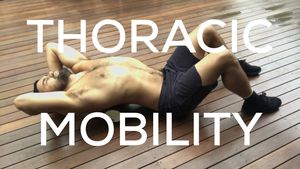 04/04/17 • 2 min
Here we look at a T-spine mobility drill.
Thoracic spine has a tendency, in this day and age, toward stiffness due to what we do as a society.
We sit, in the car, at work, at the office, at home, travelling. What we tend to see is a lot of thoracic stiffness, particularly a deficit or dysfunction into extension and rotation through the thoracic spine.
This is one of my favourite 'go-to' mobility drills. As you can see I'm working on the thoracic or rib-cage area. I usually do about 3 general levels; shoulder blades, bra line, thoracolumbar junction or lower T-spine. I tend to get quite stiff at the lower T-spine.
Take it easy through the movement. Breathe. Go to where you're comfortable. Should be non-threatening. We need consistency in inputs to effect positive change. Your body will either adapt or maladapt depending on the stimulus. It's either in a positive or negative direction. We want the positive direction.
I want the nervous system to feel safe and non-threatened. A key point to achieving a neurophysiological change in terms of mobility. Don't force it if it's painful or too sore.
I usually follow this up with a thoracic rotation drill. As you can see, moving into side-lying, open-book stretch. Knees up to bias the mid back area, and again, take it easy, breathe through your movement and try to get the back of your shoulder blade to the floor.
Again, if it's not there, don't force it.
I like to finish the drills with some motor control or stability drills to really solidify change. The increase in mobility is thought to increase the sensory input and proprioceptive information to your brain and the idea is to save the new mobility by using/stabilising and controlling the new motor pattern.
Another step in the journey.
Prefer to listen?
Show more
What is the most popular episode on BECOMING UNBREAKABLE?
The episode title 'Thoracic Mobility Drills' is the most popular.
Show more FAQ
Comments
Rating
Review or comment on this podcast...
External Reviews
Imported reviews from Apple Podcasts.
Generate a badge
Get a badge for your website that links back to this
Select type & size