BANKAI - The Anime Podcast
The Reese Chanson Network
Top 10 BANKAI - The Anime Podcast Episodes
Best episodes ranked by Goodpods Users most listened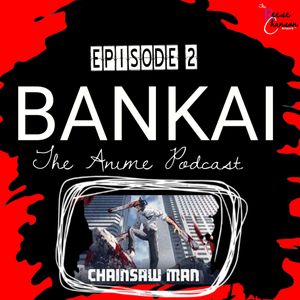 BANKAI - The Anime Podcast
10/13/22 • 10 min
The story is set in a world where Devils are born from human fears. Devils are usually dangerous and malevolent, their power proportional to the fear they incite. However, humans can form contracts with them to use their power, and there are individuals specializing in hunting and employing them, called Devil Hunters. Devils originate from Hell, and exist in a cycle between Earth and Hell: they migrate to Earth when killed in Hell, and vice-versa. Dwelling in Hell are extremely powerful Devils called Primal Fears, which have never been killed. Transit between planes appears to be overseen by the Hell Devil.
A Devil may, in certain conditions, inhabit the body of a dead human, gaining some of their memories and personality; such a creature is called a Fiend. Devils who naturally have a humanoid form are said to be benevolent to humans.
The events of the story take place in 1997, in an alternate timeline where the Soviet Union still exists, and many events such as the Holocaust are revealed to have been erased from history. Nuclear weapons once existed in this world, but due to consumption of the Nuclear Weapons Devil by the Chainsaw Devil, they have ceased to exist entirely. Likewise, there has been no war since the World War as the War Devil has been weakened to the point that the only traces of war exist in pop culture and media.
Chainsaw Man follows the story of Denji, an impoverished young man who makes a contract that fuses his body with that of a dog-like devil named Pochita, granting him the ability to transform parts of his body into chainsaws. Denji eventually joins the Public Safety Devil Hunters, a government agency focused on fighting against devils whenever they become a threat to the world
Denji is a young man trapped in poverty, working off his deceased father's debt to the yakuza by working as a Devil Hunter, aided by Pochita, his canine companion and Chainsaw Devil. Denji is betrayed by the yakuza, who kill him for a contract with the Zombie Devil. Pochita makes a contract with Denji, merging with him as a human-devil Hybrid, under the condition that Denji shows his dreams to Pochita. Denji massacres the yakuza, and is approached by a team of governmental Devil Hunters, the Public Safety Division, led by Makima, who persuades him to join their ranks
There is a lot of movie references in this anime first episode air over 11 references just one here's a list of all the movies that are mentioned
Movie names:
#1 - Pulp Fiction
#2- Sadako vs Kayako
#3- No Country for Old Men
#4- Once Upon a Time in Hollywood #5- Attack of the Killer Tomatoes
#6 - The Big Lebowski
#7 Jacob's Ladder
#8 - Constantine
#9 - La Divina Comedia
#10 - The Texas Chainsaw Massacre
#11 - Don't Look Up (1996)
★ Support this podcast on Patreon ★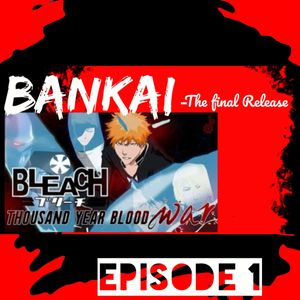 BANKAI - The Anime Podcast
10/10/22 • 7 min
Bleach: Thousand-Year Blood War (BLEACH 千年血戦篇, Burīchi: Sennen Kessen-hen) is a Japanese anime television series based on the Bleach manga series by Tite Kubo and a sequel to the Bleach anime series. In March 2020, Weekly Shōnen Jump and "Bleach 20th Anniversary Project & Tite Kubo New Project Presentation" livestream announced that the manga's last story arc, "Thousand-Year Blood War", would receive an anime project. In November 2021, it was announced that the anime project would be a television series. The trailer and visual for the series were revealed at the Jump Festa '22 on December 18, 2021. The series will be directed by Tomohisa Taguchi and it is set to premiered on TV Tokyo on October 10 2022. Tatsuya Kitani performs the opening theme "Scar" (スカー, Sukā), while SennaRin performs the ending theme "Saihate" (最果て, "The Farthest Reaches").
★ Support this podcast on Patreon ★
Comments
Rating
Review or comment on this podcast...
Generate a badge
Get a badge for your website that links back to this
Select type & size