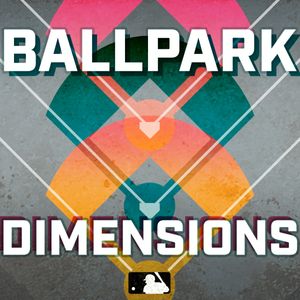 Ballpark Dimensions
MLB.com
5.0
(2)
Baseball's biggest news, trends, trades and highlights, all broken down from an analytical angle. Subscribe now to stay up-to-date on Majors' most important storylines using the same data as cutting-edge front offices. Enjoy two episodes per week, one with Matt Meyers and Mike Petriello, and another with Mandy Bell and Sarah Langs.

1 Listener
5.0
(2)
Top 10 Ballpark Dimensions Episodes
Best episodes ranked by Goodpods Users most listened
Show more
How many episodes does Ballpark Dimensions have?
Ballpark Dimensions currently has 397 episodes available.
What topics does Ballpark Dimensions cover?
The podcast is about Baseball, Podcasts and Sports.
What is the most popular episode on Ballpark Dimensions?

The episode title 'Nobody's Perfect!' is the most popular.

What is the average episode length on Ballpark Dimensions?

The average episode length on Ballpark Dimensions is 42 minutes.

How often are episodes of Ballpark Dimensions released?

Episodes of Ballpark Dimensions are typically released every 6 days, 23 hours.

When was the first episode of Ballpark Dimensions?

The first episode of Ballpark Dimensions was released on Jun 5, 2015.

Show more FAQ
Comments
2 Ratings