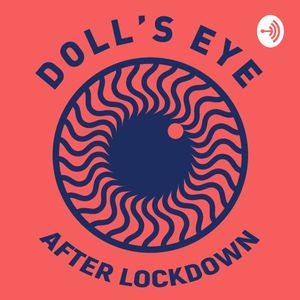 After Lockdown
Dolls Eye Theatre
400 words, penned in the midst of a global pandemic. Doll's Eye Theatre pair new writers with professional actors to give voice to the depth of emotions and experience, the ebbs and flows of life in lockdown. Pieces are followed by Doll's Eye Theatre producers, reflecting with much needed light hearted relief during this time, at some of their own personal lock-down fails.
Top 10 After Lockdown Episodes
Best episodes ranked by Goodpods Users most listened
07/10/20 • 35 min
This week's actors were Vanessa Johnson, Rachel Hilton Sarah Kerr, Charlotte Worthing, Nicola Taylor. Amy Ewbank, Emily Houghton, Vicki Bothwell, Sophie Whitebrook, Jane Edwards and Ashley Cook.
This week's writers were Wendy Grace, Charlotte Rosa, Carla Cox, Victoria Thornton-Field, Ellie Stewert, Shakira Stella, Matthew Field, Zoe Ellesmore, Michelle Mangal
Music by Danosongs and Purple Planet.
Thank you for listening and stay safe!
07/10/20 • 35 min
06/18/20 • 26 min
This week's writers were Mel Vial, Samantha Floods, Angela Cowans, Matt Field, Cleo Schlaht and Jennie Francis-Levers.
This week's actors were Louise Amos, Danielle Nott, Irene Palko, Henry Everitt,, Ali Zayn and Jennie Francis-Levers.
After Lockdown was hosted and produced by Maddy Berry, Amy Ewbank and Wendy Grace of Doll's Eye Theatre.
Please note, submissions for writing are currently open for a few more days, from now until Sunday 21st June, so please if you have something you would like to be shared, which can be credited or anonymous, please head to www.dollseyetheatre.com for more information on how to submit.
06/18/20 • 26 min
06/04/20 • 28 min
Piece 1 - Written by Blair McAlpine, performed by Sophie Allen
Piece 2 - Written by Kayden Clarke, performed by Tyler Brooks
Piece 3 - Written by Selin Sevinc, performed by Jayne Edwards
Piece 4 - Written by Jack McPheat, performed by Matt Field
Piece 5 - Written by Joely Giacomelli, performed by Blair McAlpine
Piece 6 - Written by Dani Nott, performed by Irene Paiko
Hosted by Amy Ewbank, Maddy Berry and Wendy Grace
Music supplied by https://www.purple-planet.com/ and https://danosongs.com/home
Thanks to Josh Rigby-Farrell for his logo work, and Jack Cameron for audio wizardry.
Created and produced by Doll's Eye Theatre - http://www.dollseyetheatre.com/
06/04/20 • 28 min
Show more
How many episodes does After Lockdown have?
After Lockdown currently has 3 episodes available.
What topics does After Lockdown cover?
The podcast is about Podcasts, Arts and Performing Arts.
What is the most popular episode on After Lockdown?

The episode title 'Episode 3 - After Lockdown' is the most popular.

What is the average episode length on After Lockdown?

The average episode length on After Lockdown is 30 minutes.

How often are episodes of After Lockdown released?

Episodes of After Lockdown are typically released every 21 days, 21 hours.

When was the first episode of After Lockdown?

The first episode of After Lockdown was released on Jun 4, 2020.

Show more FAQ
Comments
Rating