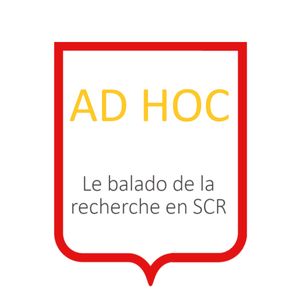 Ad hoc | Balado de la recherche en SCR
Ad hoc | Le balado de la recherche en SCR
Podcast by Ad hoc | Le balado de la recherche en SCR
Top 10 Ad hoc | Balado de la recherche en SCR Episodes
Best episodes ranked by Goodpods Users most listened
Ad hoc | Balado de la recherche en SCR
03/10/20 • 31 min
De La Mecque au Vatican, des croisières aux safaris chrétiens, des retraites aux destinations extrêmes favorisant le ressourcement spirituel ou le dépassement de soi, le tourisme religieux semble en pleine effervescence et développement. Les différents rapports évoquent, dans les années 2008-2010, plus 300 millions de voyageurs et pour des retombées de 18 milliards de dollars américains. Les chiffres sont très certainement beaucoup plus impressionnants aujourd'hui puisqu'en 2010 une enquête prévoyait une possibilité de croissance de 55 % pour les voyages religieux. Il y a là un marché, ici comme ailleurs dans le monde. Mais n'y a-t-il pas plus encore? Qu'y a-t-il en jeu dans les différentes formes du tourisme religieux que sont le pèlerinage, les grands rassemblements et le voyage aux fins de loisir? Pourquoi faire Compostelle? Pourquoi participer aux Journées mondiales de la jeunesse? Pourquoi visiter Notre-Dame-de-Paris? Plus encore, qu'y a-t-il de religieux ou de spirituel dans le geste même de se déplacer, de prendre la route, de sortir de chez soi pour sortir de soi? Ces itinéraires – qui ne en rien des itinérances – semblent avoir, actuellement plus que jamais en regard de la facilité de déplacement, des effets de sens. Comment comprendre le tourisme!
03/10/20 • 31 min
Ad hoc | Balado de la recherche en SCR
12/05/19 • 28 min
Les mèmes, ces images auxquelles on ajoute un court texte dans une esthétique souvent exubérante, font désormais partie de notre environnement culturel et numérique. Certains en viennent à suggérer qu'il y aurait là quelque chose comme une nouvelle structure de langage ou, à tout le moins, une nouvelle forme de narrativité rendue possible par les médias sociaux. Il y a là un phénomène social et culturel vraiment intriguant. Et à cette forme d'expression, le religieux n'est pas étranger. Au contraire! On retrouve de nombreux mèmes à caractères religieux, tantôt pour annoncer des événements, tantôt pour partager des croyances personnelles ou des convictions, tantôt pour dénoncer et critiquer les religions. Comment comprendre les mêmes religieux!
12/05/19 • 28 min
Show more
How many episodes does Ad hoc | Balado de la recherche en SCR have?
Ad hoc | Balado de la recherche en SCR currently has 2 episodes available.
What topics does Ad hoc | Balado de la recherche en SCR cover?
The podcast is about Society & Culture and Podcasts.
What is the most popular episode on Ad hoc | Balado de la recherche en SCR?

The episode title 'Ad hoc - Le tourisme religieux H20 02' is the most popular.

What is the average episode length on Ad hoc | Balado de la recherche en SCR?

The average episode length on Ad hoc | Balado de la recherche en SCR is 30 minutes.

How often are episodes of Ad hoc | Balado de la recherche en SCR released?

Episodes of Ad hoc | Balado de la recherche en SCR are typically released every 95 days, 10 hours.

When was the first episode of Ad hoc | Balado de la recherche en SCR?

The first episode of Ad hoc | Balado de la recherche en SCR was released on Dec 5, 2019.

Show more FAQ
Comments
Rating