Back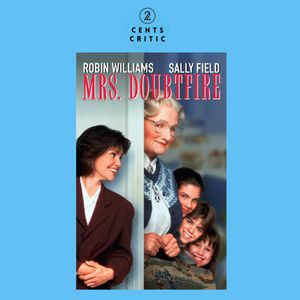 #96 - Mrs. Doubtfire | Directed by Chris Columbus (with Patrick of Vintage Video)
2 Cents Critic
5.0
(6)
Tune in as Patrick (Vintage Video) hangs out with Arthur for a discussion on Mrs. Doubtfire, the 1993 family comedy (or thriller, depending on how you look at it) starring Robin Williams as a dad who's going through a divorce and just wants to spend more time with his kids. So what does he do? Why, he disguises himself as an elderly British woman and finagles his way into becoming their nanny. Yep, nothing major. Transphobic gags being juggled alongside some surprisingly positive facets of queer rep, questioning whether or not the movie truly understands how allergies work, and its progressive perspective on divorce are a few of the talking points that come up on this episode.
Directed by Chris Columbus (Home Alone), Mrs. Doubtfire stars Robin Williams, Sally Field, Pierce Brosnan, Lisa Jakub, Matthew Lawrence, Mara Wilson, Robert Prosky, Anne Haney, Harvey Fierstein, Scott Capurro, Martin Mull, and Polly Holliday.
Spoilers start at 23:15
Good Word:
• Patrick: 1995's Jumanji
• Arthur: Gone Girl (specifically the movie, although Gillian Flynn's novel is top-notch, too)
Reach out at email2centscritic@yahoo.com if you want to recommend things to watch and read, share anecdotes, or just say hello!
Be sure to subscribe, rate, and review on iTunes or any of your preferred podcasting platforms!
Follow Arthur on Twitter, Goodpods, StoryGraph, Letterboxd, and TikTok: @arthur_ant18
Follow the podcast on Twitter and Instagram: @two_centscritic
Follow Arthur on Goodreads: https://www.goodreads.com/user/show/144101970-arthur-howell
--- Send in a voice message: https://podcasters.spotify.com/pod/show/arthur746/message
Episode comments
6 Ratings
eg., What part of this podcast did you like? Ask a question to the host or other listeners...
Aubrey Z
@bringyourownpopcorn
Mar 9
1 Like
Christopher Murray
@eljefe
Mar 10
1 Like
Mar 11
1 Like
Mar 11
1 Like
Arthur Howell
@arthur_ant18
Mar 8
Like
Mar 9
1 Like
Show more
Generate a badge
Get a badge for your website that links back to this
Select type & size