Back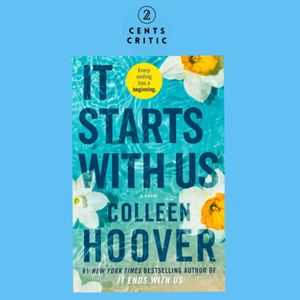 5.0
(3)
Tune in as my bestie Saba comes back to the show for a discussion on It Starts with Us, the latest novel by Colleen Hoover. This is the sequel to what's arguably one of her most popular books, It Ends with Us, which even has its very own episode in the 2CC catalog. ISWU isn't nearly as dark as IEWU, but it still treads into some heavy territory while following the rekindled romance between Lily Bloom and Atlas Corrigan, the challenges that Lily has to confront thanks to the persistent presence of her ex-husband Ryle Kincaid, and the unexpected changes in Atlas's personal life. Whether or not this sequel is necessary, an explanation of the tragic opening scene in Finding Nemo, and the sinking ship that is Twitter are just a few of the subjects that Arthur and Saba chat about here.
TW: abandonment, emotional abuse, gaslighting, toxic relationships, child abuse, domestic abuse, sexual content, a brief reference to sexual assault
Spoilers start at 16:50
Good Word:
• Saba: Chainsaw Man (specifically the manga)
• Arthur: Coraline (not only the movie, but also the Neil Gaiman book)
Reach out at email2centscritic@yahoo.com if you want to recommend things to watch and read, share anecdotes, or just say hello!
Be sure to subscribe, rate, and review on iTunes or any of your preferred podcasting platforms!
Follow Arthur on Twitter, Goodpods, StoryGraph, and Letterboxd: @arthur_ant18
Follow the podcast on Twitter and Instagram: @two_centscritic
Follow Arthur on Goodreads: https://www.goodreads.com/user/show/144101970-arthur-howell
--- Send in a voice message: https://podcasters.spotify.com/pod/show/arthur746/message
Episode comments
3 Ratings
eg., What part of this podcast did you like? Ask a question to the host or other listeners...
Dec 1
1 Like
Arthur Howell
@arthur_ant18
Nov 30
Like
Dec 1
1 Like
Generate a badge
Get a badge for your website that links back to this
Select type & size