Back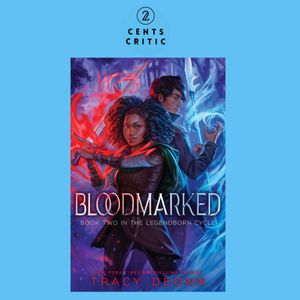 #80 - Bloodmarked by Tracy Deonn (with Sam Cabrera-Dixon of Hardcover Hoes)
2 Cents Critic
5.0
(4)
Tune in as Sam Cabrera-Dixon (Hardcover Hoes) returns to 2CC for a discussion on Bloodmarked, the second book in the Legendborn Cycle by Tracy Deonn. The first book, Legendborn, had plenty of goodness to offer fantasy readers as a contemporary YA retelling of Arthurian legend. Is Bloodmarked a worthy follow-up (spoilers: it is)? Comparing the intricate worldbuilding to that of the Blood and Ash series, taking a minute to remember a specific Taylor Swift song, and diving into the layered dynamic between Bree and Sel are just a few of the things that Arthur and Sam do on this episode.
TW: Death of a parent and traumatic grief, combat/battle flashbacks, alcohol consumption, mind control/memory manipulation, drugging/medical abuse, forced captivity, racist macro and microaggressions, emesis (vomiting), blood, ritual magic self-harm to access blood (via hands with safety pin and sword), mild gore, torture, combat/interpersonal violence, murder, death, and mention(s) of: physical abuse, racist violence, sexual violence.
Spoilers start at 12:15
Good Word:
• Arthur: Netflix's Falling for Christmas
• Sam: Midnights (3am Edition) by Taylor Swift and Christmas by Michael Bublé
Reach out at email2centscritic@yahoo.com if you want to recommend things to watch and read, share anecdotes, or just say hello!
Be sure to subscribe, rate, and review on iTunes or any of your preferred podcasting platforms!
Follow Arthur on Twitter, Goodpods, StoryGraph, and Letterboxd: @arthur_ant18
Follow the podcast on Twitter and Instagram: @two_centscritic
Follow Arthur on Goodreads: https://www.goodreads.com/user/show/144101970-arthur-howell
--- Send in a voice message: https://podcasters.spotify.com/pod/show/arthur746/message
Episode comments
4 Ratings
eg., What part of this podcast did you like? Ask a question to the host or other listeners...
Aubrey Z
@bringyourownpopcorn
Nov 16
2 Likes
Arthur Howell
@arthur_ant18
Nov 16
Like
Nov 30
1 Like
Nov 16
2 Likes
Generate a badge
Get a badge for your website that links back to this
Select type & size