Back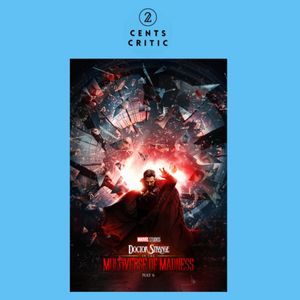 #61 - Doctor Strange in the Multiverse of Madness | Directed by Sam Raimi (with Franklin Cota of Teen Girl Talk)
2 Cents Critic
5.0
(3)
Tune in as Arthur invites Franklin Cota (Teen Girl Talk) onto the program for a deep dive into the 28th film in the Marvel Cinematic Universe, Doctor Strange in the Multiverse of Madness. There's been plenty to look forward to in this movie, especially since it marks Sam Raimi's return to the director's chair since the 2013 James Franco-led megaflop Oz the Great and Powerful. Aside from discussing movie elements like Wanda Maximoff's arc and the cheesy horror vibes, the hosts chat about Doctor Doom being Franklin's favorite Marvel character, their shared love for Ms. Marvel, and the underrated status of Dreamworks in comparison to an animation rival like Pixar.
Directed by Sam Raimi (the Tobey Maguire Spider-Man trilogy), Doctor Strange in the Multiverse of Madness stars Benedict Cumberbatch, Elizabeth Olsen, Xochitl Gomez, Benedict Wong, Rachel McAdams, Chiwetel Ejiofor, Jett Klyne, Julian Hilliard, and Michael Stuhlbarg.
Spoilers start at 25:20
Good Word:
• Franklin: The Bad Guys and the D&D podcast Dungeons and Daddies
• Arthur: Comfort Me With Apples by Catherynne M. Valente
Reach out at email2centscritic@yahoo.com if you want to recommend things to watch and read, share anecdotes, or just say hello!
Be sure to subscribe, rate, and review on iTunes or any of your preferred podcasting platforms!
Follow Arthur on Twitter, Goodpods, StoryGraph, and Letterboxd: @arthur_ant18
Follow the podcast on Twitter and Instagram: @two_centscritic
Follow Arthur on Goodreads: https://www.goodreads.com/user/show/144101970-arthur-howell
--- Send in a voice message: https://podcasters.spotify.com/pod/show/arthur746/message
Episode comments
3 Ratings
eg., What part of this podcast did you like? Ask a question to the host or other listeners...
Jul 7
1 Like
Raphael Moran
@thegeekydadpodcast
Jul 13
Like
Arthur Howell
@arthur_ant18
Jul 6
Like
Generate a badge
Get a badge for your website that links back to this
Select type & size