Back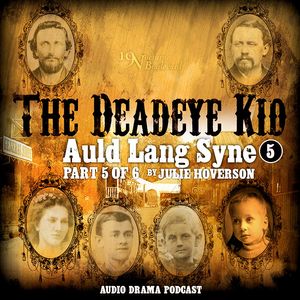 19 Nocturne Boulevard - AULD LANG SYNE (parts 1-3 of 6) (Deadeye Kid #5) Reissue of the week
19 Nocturne Boulevard
5.0
(1)
A quirk of fate brings both Lem and Fanshaw face to face with people from their pasts. disagreeable reunions bring up disagreeable memories, and show a taste of what makes a man into a gunslinger.
Written and Produced by Julie Hoverson
Cast List
Lemuel Roberts /Deadeye Kid - J. Spyder Isaacson Clarence Fanshaw - J. Hoverson
~~~~~~
Grisham - Bill Hollweg (BrokenSea Audio) Lisette Carmichael - Robyn Keyes Commander Bannington - Glen Hallstrom Scotty - Mike Campbell
Other Voices:
Episode 1 Bartender - Rick Lewis
Episode 2 Townsfolks - Mark Olson, Candace Behuniak, Big Anklevitch & Rish Outfield (Dunesteef audio magazine)
Episode 3 Juliet - Alexa Chipman (Imagination Lane) Glen Hallstrom
Episode 4 Bandits - Big Anklevitch & Rish Outfield (Dunesteef audio magazine) Piedmont - Russell Gold Mr. Roberts - Jack Kincaid (Edict Zero)
Episode 5 Nanny - Jennifer Dixon Bandits - Big Anklevitch & Rish Outfield (Dunesteef audio magazine)
Episode 6 Bandits - Big Anklevitch & Rish Outfield (Dunesteef audio magazine) Mark & Connor Olson Russell Gold
Cover Design: Brett Coulstock Announcer: Glen "Ole Hoss" Hallstrom Opening theme: "The Wreck of Old '97" from public domain recording found on archive.org Any incidental music: Kevin MacLeod (Incompetech.com) Editing and Sound: Julie Hoverson
No gunshots herald his approach. No trademark left behind him when he leaves. The Kid had his fill of notoriety in days gone by - as plenty of empty boots can surely testify. Some say he rides alone. That's the Deadeye Kid.
*************************************************************
Auld Lang Syne [DeK4]
EPISODE 1
MUSIC
1_ARRIVAL
SOUND HORSES, RIVER, BOAT TRAFFIC
LEM Largest town I been near in a good passel of time. I hear tell it started out as a frontier fort, but the frontier moseyed west and left it a-setting behind.
FANSHAW Will it be safe?
LEM Safe?
FANSHAW I had rather assumed you were avoiding larger towns. For ... notoriety's sake.
LEM Meaning I don't want be invited to a necktie party? 'at's part of it, though I'm purty sure I ain't never been posted in this territory.
FANSHAW Is it worth the risk?
LEM [shrug noise] Time to time a man wants a bath and a night in a bed.
FANSHAW There are some distinct benefits to being deceased.
LEM [laughs] Ayup. I don't gotta listen to you bellyaching about aches and pains and sleeping on the ground no more. Never mind being all prissy and citified about finding you a comf'table bush now and then--
FANSHAW [rolling eyes] Yes, yes.
LEM Sides, I'm outta coffee. And low on shells.
FANSHAW [teasing] Heavens. How DO you manage?
2_STROLLING
AMB IN TOWN
SOUND WALKING ON WOOD
LEM Lotta trade hereabouts. Reckon I'll be able to get what all I need.
FANSHAW Lem! Soldiers.
LEM [voice low] Right. We'll go on over yonder. [beat] Must still be a fort within spitting distance.
FANSHAW I did notice that the old fortification appears to have become the mansion for an authority of some kind.
LEM Probly best to get my business done and skeddaddle.
SOUND SALOON DOOR OPENS, JUST OFF, PEOPLE COME OUT
FANSHAW I say. Isn't it a bit early for a drink?
LEM [shrug] Three weeks. Don't seem early to me.
FANSHAW I'll--
LISETTE [off a bit] Clary?
FANSHAW [stunned and horrified] Oh god.
LISETTE [off a bit] Clary? I'd know that voice anywhere!
LEM Friend o'yourn?
FANSHAW [stiff, covering] Old acquaintance. Go on ahead!
LEM Right.
3_SALOON
SOUND HE WALKS INTO SALOON
AMB SALOON
LEM One here.
SOUND DRINK POURED
BARTENDER There you go.
SOUND COINS
SOUND LEM DRINKS
GRISHAM [angry growl] Lemuel Roberts.
LEM [SPIT-TAKE]
SOUND GLASS SLAMMED DOWN
BARTENDER Something wrong, fella?
LEM [coughing, trying to clear his throat] Toothache. Hit like a snakebite.
GRISHAM You look at me, you pissant slab of gun leather.
BARTENDER [sympathetic] Tarnation. You need it yonked? Barber can‐‐
LEM [finally getting clear] No, no. I kin handle it.
SOUND COINS, GLASS DOWN
LEM Another. And sorry about the--
BARTENDER [dismissive] Ain't no nevermind.
SOUND MORE COINS
LEM Give me the bottle.
GRISHAM Now I found you, you could float a heap o rotgut and won't never drown me!
BARTENDER...
07/28/22 • 34 min
1 Listener
5.0
(1)
Episode Comments
1 Rating
eg., What part of this podcast did you like? Ask a question to the host or other listeners...
Glenda Blasts Your Ear Off
@gbyeo
Jul 31
1 Like
Generate a badge
Get a badge for your website that links back to this
Select type & size