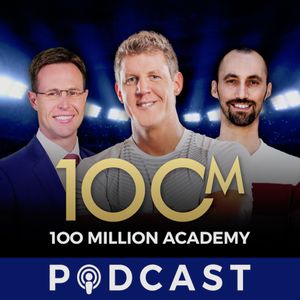 100 Million Academy's Podcast
100 Million Academy
Each Sunday, listen to the 100 Million Academy podcast to get highlights from the five daily live calls that week. You'll be able to hear the best clips combined together from the top entrepreneurs and business minds in the world. Learn actionable lessons, skills, tips and strategies from these high level experts covering real estate, marketing, sales, investing, digital advertising, social media and more. www.100millionacademy.com is an online educational platform featuring more than 20 entrepreneurs who have sold over $100 million in revenue, spent over $100 million on ads, or have been seen by over 100 million people. Co-founders Joel Marion, Dan Fleyshman, and Cody Sperber are on a mission to make world-class entrepreneurs & instructors accessible to the masses.
Top 10 100 Million Academy's Podcast Episodes
Best episodes ranked by Goodpods Users most listened
Show more
What is the most popular episode on 100 Million Academy's Podcast?
The episode title '#14 - Braydon Ross, Simon Vo, Jim Dew, Dan Fleyshman and Lee Richter' is the most popular.
Show more FAQ
Comments
Rating