Back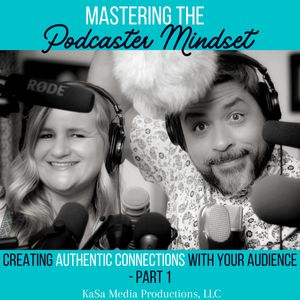 5.0
(1)
Today we begin a 5 part series where we dive deep into the 10 Ways to authentically connect with your audience that we introduced last week in Episode 8. In part 1 of the 5 part series, we look at the first 2 ways to authentically connect with your audience.
Let Your Personality Shine
Let people connect with the real you, your mission, and your values. An example of this is podcast guest Brianne Davis of the Secret Life podcast, Episode 3 and guest on Tiphany's Love & Life podcast, episode 59
Show your human side- hobbies, volunteer projects, family time, illness (like when we got covid)
have a sense of humor
Don't over-edit and take out all your imperfections. Imperfections are endearing. An example of this is Tiphany's podcast guest, Erin Ramsey of You're Such a Catch Podcast, episode 34. Erin snorts when she laughs and we all love it!
Authenticity means not pretending to be someone you are not
If you are not the expert, don't pretend to be one. An example is our guest, Amanda Chen of the 100 Masked Men Project, episode 7
If you are an expert, show humility
Don't position yourself as the hero that can save your listener's problems
Our mics for this episode:
David- Shure SM57 with A81WS windscreen
Tiphany- Shure SM7B
Join our FREE Facebook community: Mastering the Podcaster Mindset Support Group
Get the Guide "The Biggest Mistake Podcaster Make and How to Avoid It":
DM us on IG: @podcastermindset
Episode comments
1 Rating
eg., What part of this podcast did you like? Ask a question to the host or other listeners...
The Clever Biotch
@thecleverbiotch
Dec 28
1 Like
Generate a badge
Get a badge for your website that links back to this
Select type & size