Back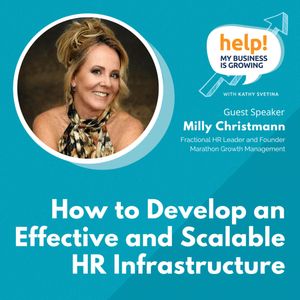 5.0
(1)
When running a business, you're busy keeping an eye on its finances, ensuring stable production, and implementing your sales and marketing campaigns for its continued growth. This approach makes complete fiscal sense, and it focuses on aspects of the business that will keep it healthy and sustainable.
But what about your Human Resources (HR)? Is it something you're also looking at and actively working on? Sadly, despite it being an essential and crucial foundational piece of any business, it often falls behind and is not prioritized.
HR is every person working for your company, and it is also the department that will manage them. It is payroll, benefits, compliance - and finding and keeping the right people. It will also have a lasting negative impact both operationally and financially on your business if you don't have a long-term HR strategy and don't set up the proper HR infrastructure.
So how do you develop an effective and scalable HR infrastructure for your growing business?
In this episode of Help! My Business Is Growing, our guest Milly Christmann and I take a very deep dive into the importance of establishing an HR infrastructure for the success of your business.
She'll discuss how having a comprehensive HR Infrastructure can help you attract and retain top talent, support your company's operational and financial plans and align resources to help you hit your business objectives.
Milly Christmann is a Fractional HR Leader and owner of Marathon Growth Management, a Human Resources consulting business that supports small to medium-sized businesses. Recognized for collaborating with leaders to achieve their business goals by unleashing the power of an engaged workforce, Milly uses process improvement, technology, and strong, passionate people skills to attract, develop, and retain top talent, driving change that matters.

In this week's episode, we discuss:

03:48 What are the signs that it's time to plan and implement an HR infrastructure in your business?
06:29 What does a "people plan" look like in planning and growth for your business?
14:50 Should you start thinking about having a dedicated HR professional on your staff when you hit the 50+ employee mark, or is a fractional HR service or an outsourced provider enough to help you manage?
18:25 How are business owners not maximizing their payroll company to its total capacity. What are some examples, and what does this look like?
22:12 What is the scope of a Fractional CHR professional's role in your business? Are they able to provide leadership coaching and advise the CEO on change management?
25:21 What about smaller businesses with less than 50 employees? What HR structure should they implement? Do they need it for compliance and beyond? What is that process like in their space?
30:29 What is one tangible step business owners can take this week to get closer to having an efficient and effective HR structure?

Resources:
Milly Christmann, Fractional HR Leader and Founder of Marathon Growth Management:
https://www.marathongrowthmgt.com/
LinkedIn:
https://www.linkedin.com/in/milly-christmann-mba-sphr
Email:
milly@marathongrowthmgt.com
Contact Number:
(949) 202-7258

Kathy Svetina, Fractional CFO:
https://www.newcastlefinance.us/
Blog post | How to Develop an Effective and Scalable HR Infrastructure
https://www.newcastlefinance.us/post/how-to-develop-an-effective-and-scalable-hr-infrastructure
Episode comments
1 Rating
eg., What part of this podcast did you like? Ask a question to the host or other listeners...
Patricia Abarte
@patriciaabarte
Jul 6
Like
Generate a badge
Get a badge for your website that links back to this
Select type & size