Back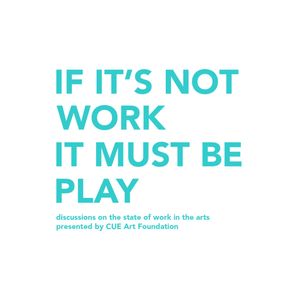 Left to right: Cevan Castle, Tom Angotti, Rosanne Haggerty and Paul Parkhill
Do our communities also bear the negative effects of under-compensated creative labor? Artists famously move residences and work space in response to the availability of low-cost space, often subsidized by development schemes. Tom Angotti of Hunter College Center for Community Planning and Development, Rosanne Haggerty of Community Solutions, and Paul Parkhill of Spaceworks discuss strategies towards long term creative space and community stability.
This program is the fourth in the series "if it's not work it must be PLAY: discussions on the state of work in the arts." This series is presented by CUE, and produced by our inaugural Public Programming Fellow, Cevan Castle. For more information, please visit Critical Distance, a new blog produced by CUE highlighting discussions, near and far, on issues relating to the arts and humanities.
ABOUT THE SPEAKERS
Tom Angotti is Professor of Urban Affairs and Planning at Hunter College and the Graduate Center, City University of New York, and Director of the Hunter College Center for Community Planning and Development. His recent books include The New Century of the Metropolis, New York For Sale: Community Planning Confronts Global Real Estate, which won the Davidoff Book Award, andAccidental Warriors and Battlefield Myths. He is co-editor of Progressive Planning Magazine, and Participating Editor for Latin American Perspectives and Local Environment. He is actively engaged in community and environmental justice issues in New York City.
Rosanne Haggerty is the President and Chief Executive Officer of Community Solutions. She is an internationally recognized leader in developing innovative strategies to end homelessness and strengthen communities. In 1990, Rosanne founded Common Ground Community, a pioneer in the development of supportive housing and research-based practices that end homelessness. To have greater impact, Rosanne and our senior team launched Community Solutions in 2011 to help communities solve the problems that create and sustain homelessness. Rosanne is a MacArthur Foundation Fellow, an Ashoka Senior Fellow and a Hunt Alternative Fund Prime Mover. In 2012, she was awarded a Jane Jacobs medal for new ideas and activism from the Rockefeller Foundation. She serves on the boards of the Alliance for Veterans, Citizens Housing and Planning Council and Iraq-Afghanistan Veterans of America.
Paul Parkhill became Spaceworks' founding Executive Director in May 2012. Between 1999 and 2012, Paul served as the Director of Planning and Development at the Greenpoint Manufacturing and Design Center, a nonprofit that has redeveloped more than 700,000 square feet of space for industrial, artisanal and arts-related businesses. For six years prior to that Paul worked as a housing developer for Common Ground Community, a supportive housing provider. In 1997 Paul co-founded Place in History, a Brooklyn-based nonprofit arts organization that sponsors public art and public history projects about New York City neighborhoods. He has performed community development consulting for a range of organizations, including the Fifth Avenue Committee, Asian Americans for Equality, the Corporation for Supportive Housing, Civic Builders and the Greyston Foundation. Paul holds a BA from Brown University and a Master's Degree in Urban Planning from Columbia University.
Recorded live: March 6th, 2015.
Episode comments
1 Rating
eg., What part of this podcast did you like? Ask a question to the host or other listeners...
Generate a badge
Get a badge for your website that links back to this
Select type & size