Back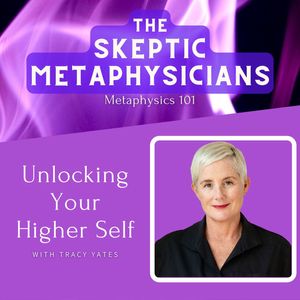 Do you want to be purposeful, meteoric, fulfilled, connected, illuminated, aligned? Unlocking the potential that your higher self offers, or reaching ascension, is oftentimes the ultimate goal of any spiritual practice. As a quantum activator, our guest ignites you to defy logic, collapse time, and break through barriers for infinite fulfillment, purpose and possibility in life and business.
Tracy Yates is on a mission to accelerate your infinite potential!
"People get tripped up when they're expecting to experience it (enlightenment) in a very specific way. But we all have a unique personality; our own way we experience the unseen world that's unique to us."
-- Tracy Yates
As a 7 figure business owner for over two decades, dreaming up marketing for the world's most influential brands, Tracy was "on track". Until, her soul had enough and threw her a big curveball, thanks to the voice of a nearby cat!
Once she accepted that she wasn't losing her mind and followed where her soul was leading her – the universe responded quickly. It took her on a journey to studying with shamans, neuroplasticity, cosmic masters and spiritual gurus to emerge with powerful holistic approaches that addresses all the parts calling out for restoration and expansion – energetic, mental, emotional, and spiritual. She says that most doctors, therapists, healers, coaches, and best-selling authors only deal with one level of our existence. And to rapidly expand, it requires attention to all parts of us.
So she created her own modality weaving consciousness, energetics, ancestral clearing, spirituality, and infinite, quantum codes.She's known for her non-surface approach to self mastery to get you rapid breakthroughs in your life and business. She has a unique ability to hold a crystal clear mirror while guideing you through her proven practices to claim lasting shifts that unlock your next level.
She's worked with soul seekers, impact-driven leaders, creatives, entrepreneurs, coaches, parents, and even an octogenarian – to accelerate momentum, reach self-mastery, expand beyond their imagination and jump solidly into infinite potential.
About our Guest:
Part Spiritual Mentor, Intuitive Guide and Quantum Healer, Tracy is one of today's most innovative voices of modern spirituality. As an Activator, she guides others to unlock their innate gifts, use the secrets of the universe and heal their emotional, mental and energetic selves through soul alignment coaching and quantum energy healing. She lives in Los Angeles with her husband and dog.
Guest Info:
Website: wearemindway.com
Instagram: @iamtracyyates
Facebook: @tracy.yates15
Skeptic Metaphysician Info:
Website:
https://www.skepticmetaphysician.com
IG:
https://www.instagram.com/skepticmetaphysician_podcast
Twitter:
https://twitter.com/WillRodriguezFl
Facebook:
https://www.facebook.com/SkepticMetaphysician
Get Your Skeptic Metaphysicians Merch:
https://www.skepticmetaphysician.com/store
Like the show?
We'd love to hear your thoughts!
Please rate/review the show here:
https://lovethepodcast.com/SkepticMetaphysicians
Episode comments
1 Rating
eg., What part of this podcast did you like? Ask a question to the host or other listeners...
Generate a badge
Get a badge for your website that links back to this
Select type & size