Back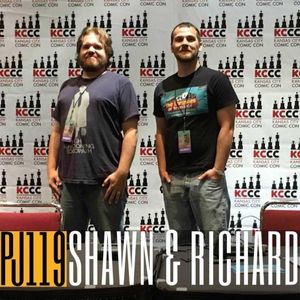 119 Shawn and Richard | A Whole Lot More Than 2 Guys In A Basement
Podcast Junkies
5.0
(1)
Richard and Shawn are the comedic hosts of The Language of Bromance, a podcast where they laugh about things they go through, stories in the news and even getting serious discussing issues like net neutrality. Every so often their friendship turns to a bitter reality with their nerdiest creation, the draft episodes, an original take on a "Best Of" or a "Top 10" list. In this episode, you will discover the nature of why they started the podcast, why they're continuing and how it's actually helped them forge a fantastic friendship.
09:03 - How did Shawn & Richard come up with the name of his podcast?
10:40 - Inspired by Kevin Smith of SMODCAST to do a podcast --which turned out to be a great way to catch up with your best friend
14:40 - "Audio voyeurism" at its finest
17:45 - From horror movies to D&D to podcasting: the origin of their friendship
24:20 - How their friendships have changed over the years
27:45 - Making it a priority of pruning friendships - only if you think it's worth it
32:00 - Importance of family support along the podcasting journey
35:11 - The guys recount the response they received while explaining the concept of their show at Podcast Movement.
38:38 - Being lovingly referred to as "The Bromance Guys"
41:50 - Inspiring others to go and share your unique story
46:25 - What has the feedback been like of the show?
50:35 - Have they come across anything in the course of the episodes that they didn't know about one another?
51:12 - What does the future of the show look like?
56:20 - What has Richard changed his mind about recently?
58:00 - What is the one misunderstood thing about Shawn?
59:19 - What has recently gotten the both of them excited about?
Full Show Notes: http://podcastjunkies.com/shawn-and-richard-interview/
★ Support this podcast on Patreon ★
This podcast uses the following third-party services for analysis:
Chartable - https://chartable.com/privacy
Episode comments
1 Rating
eg., What part of this podcast did you like? Ask a question to the host or other listeners...
Shawn Henninger
@hennish14
Feb 14
We joined this pod 3 years ago and was a lot of fun. Lot of people pin our show as 2 dudes in a basement but our show is much more than that. This really shows how and why we put together The Language of Bromance. Harry does a great job on his pods.
Like
Generate a badge
Get a badge for your website that links back to this
Select type & size