Back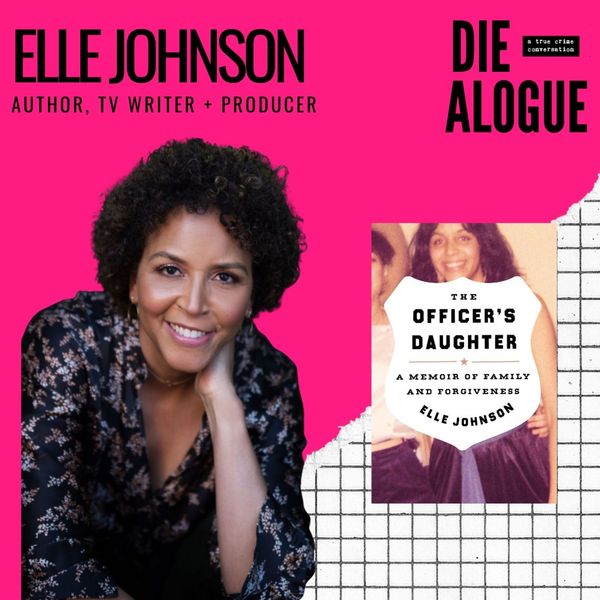 Elle Johnson | TV Writer + Author, 'The Officer's Daughter'
DIE-ALOGUE
5.0
(1)
Elle Johnson knows how to tell a cop story. Her father was a New York City parole officer. Her uncle was an NYPD homicide detective. She's written and produced for several shows including Homicide Life on the Street, Law & Order, and Bosch. She also wrote a memoir about her cousin Karen's 1981 murder.
Her book, The Officer's Daughter: A Memoir of Family and Forgiveness, explores that tragedy, her complicated relationship with her father, and the surrounding criminal justice themes like sentencing and parole. She faces a big question about whether or not to speak out for or against the release of her cousin's murderer and her memoir will compel you to consider what you would do in the same situation.
Elle and I discuss her book's themes, her entry into show business, and what restorative justice could look like. I hope you will check out this book and also follow her on social media as she has a new show and book coming out soon!
Here's her book:
https://www.amazon.com/Officers-Daughter-Memoir-Family-Forgiveness/dp/0063011328/ref
=tmm_hrd_swatch_0?_encoding=UTF8&qid=1635295735&sr=8-1
Could you please rate and review DIE-ALOGUE on apple podcasts if you haven't already?! Then share the show with your friends, family, foes, + true crime communities.
https://podcasts.apple.com/us/podcast/die-alogue-a-true-crime-conversation/id1470890320
Liked this episode? Share it on social media + tag @diealoguepod
You can get early, ad free episodes, plus exclusive bonus episodes when you become a DIE-HARD on #patreon.
https://www.patreon.com/diealogue
Follow @diealoguepod on IG/Twitter/FB
Thank you so much for joining me in these conversations. You can always reach out to me via my website:
https://www.rebekahsebastian.com/discover/#contact
Episode comments
1 Rating
eg., What part of this podcast did you like? Ask a question to the host or other listeners...
Bret & Tony With Ash & Abe
@BTAABM2
Oct 30
Like
Generate a badge
Get a badge for your website that links back to this
Select type & size