Back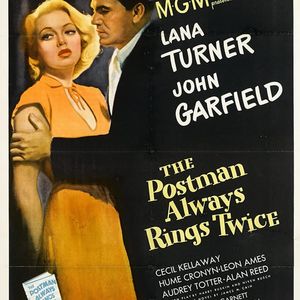 The Postman Always Rings Twice (1946) Lana Turner, John Garfield, Hume Cronyn, & James M. Cain
Book Vs Movie Podcast
5.0
(1)
Book Vs. Movie: The Postman Always Rings Twice
The James M. Cain 1934 Novel Vs. the 1946 Lana Turner Classic Film
The Margos are feeling like a couple of femme fatales after reading the 1934 James M. Cain novel and watching the 1946 film The Postman Always Rings Twice for Book Vs Movie. We put on our white turbans and try to decide which is better in this film noir-loving episode.
We covered Cain in our past episodes for Mildred Pierce and Double Indemnity and consider ourselves to be Cain fans! In this novel, Frank Chambers is a drifter who finds work in a California burger joint. The owner, Nick Papadakis (The Greek), is married to a beautiful, younger woman named Cora. Frank and Cora have a steamy affair with sex scenes and themes of violence causing it to be "banned in Boston."
It was also a smash hit that began Cain's literary career. There are those that say the plot resembles Emile Zola's novel Therese Raquin which neither one of the Margos has read.
There are a few adaptations to pick from for this work but we prefer the 1946 Lana Turner & John Garfield version which is plenty sexy and is considered a classic for several legitimate reasons. First of all, Turner is at her hottest and leaves us breathless from her all-white wardrobe to her sly smile. Garfield (who would sadly pass away of a heart condition when he was just 39) is a sweaty mess of a man who looks like he would kill for this woman.
In this ep the Margos discuss:
The original novel and why it was "banned in Boston"
The controversy surrounding this and the 1981 film
Key differences between the book and the movie
The cast: Lana Turner (Cora Smith,) John Garfield (Frank Chambers,) Cecil Kellaway (Nick Smith,) Hume Cronyn (Arthur Keats,)Leon Ames (Kyle Sackett,) Audrey Totter (Madge,) and Alan Reed as Ezra Liam Kennedy.
Clips used:
Cora meets Frank
The Postman Always Rings Twice trailer
Cora calls for an ambulance
Frank kills Nick
Lana Turner & Phil Donahue hate the 1981 update
The 1981 trailer
Music George Bassman and Erich Zeisl
Book Vs. Movie is part of the Frolic Podcast Network. Find more podcasts you will love Frolic.Media/podcasts
.
Join our Patreon page to help support the show!
https://www.patreon.com/bookversusmovie
Book Vs. Movie podcast
https://www.facebook.com/bookversusmovie/
Twitter @bookversusmovie
www.bookversusmovie.com
Email us at
bookversusmoviepodcast@gmail.com
Margo D. @BrooklynFitChik
www.brooklynfitchick.com
brooklynfitchick@gmail.com
Margo P. @ShesNachoMama
https://coloniabook.weebly.com/
Our logo was designed by Madeleine Gainey/Studio 39 Marketing Follow on Instagram @Studio39Marketing & @musicalmadeleine
Episode comments
1 Rating
eg., What part of this podcast did you like? Ask a question to the host or other listeners...
May 7
Like
Generate a badge
Get a badge for your website that links back to this
Select type & size