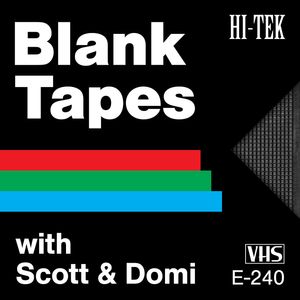 Scott and Domi review what's been left on the blank VHS tapes they find.
Top 10 Blank Tapes Episodes
Best episodes ranked by Goodpods Users most listened
04/29/20 • 41 min
A tape with no label takes us deep into the heart of the Beast War.
04/29/20 • 41 min
04/25/20 • 29 min
Scott & Domi review a VHS tape labeled 'Lucas on TV 2008'
04/25/20 • 29 min
Show more
How many episodes does Blank Tapes have?
Blank Tapes currently has 2 episodes available.
What topics does Blank Tapes cover?
The podcast is about Film, Media, Visual Arts, Television, Podcasts, Tv, Arts and Tv & Film.
What is the most popular episode on Blank Tapes?

The episode title '002 No Label 01' is the most popular.

What is the average episode length on Blank Tapes?

The average episode length on Blank Tapes is 36 minutes.

How often are episodes of Blank Tapes released?

Episodes of Blank Tapes are typically released every 4 days, 15 hours.

When was the first episode of Blank Tapes?

The first episode of Blank Tapes was released on Apr 25, 2020.

Show more FAQ
Comments
Rating