Back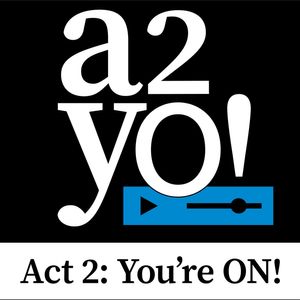 Part 1: Helping Neuro-Divergent Kids Thrive…and their parents, too! with Courtney Edman
Act 2: You're On!
Do you or someone you love struggle with learning differences, behavioral issues, or mental health challenges? We all know the modern world is a complex place societally, environmentally, and politically - so, how are we supposed to navigate this complexity without ...say - executive function skills - or when our complex learning differences leave us with self-esteem so low we are tripping over it? Well, if you have ever wondered how to get the help you or a struggling loved one might need, you are tuning in to a fascinating conversation that might reignite a sense of hope.
In this episode, we talk to Courtney Edman because Courtney has been in your shoes. She is not only a coach but also the parent of a neurodivergent young adult son with ADHD anxiety and significant lagging executive function skills. She will explain what it takes to guide you and your child to a place of calm and connection while also giving your family the tools that will lead to understanding and success. She developed some of these skills during her years as a pediatric early intervention physical therapist, serving as the Executive Director of a home-based pulmonary physical therapy practice, and her over 22 years of parenting three young adult children. She is the coach and the solution you've been searching for. No matter your child's age, stage, or diagnosis, Courtney will help to unpack the knowledge and skills to help you, your child, and your family. Courtney believes that kids do well if they can, and so does Act 2 You're On!
Highlights Include:
"I've learned so much about what it takes to be a parent, and to have an incredible relationship with your child after having a very, very challenging relationship with my son that was filled with shame and filled with for me...."
"Mental health is at the forefront of conversations that we're having, and anxiety and learning disabilities aren't necessarily grouped within mental health, but they are invisible disabilities in the same way that mental health challenges are also invisible many times. And they are brain-based. And they are neuro biologically neuro chemically based, right? And it all has to do with the way that the brain is wired. And the way that the brain functions."
"...the reason I brought up COVID...is because I think it just resulted in a heightened level of anxiety and depression, which then impacts the brain. And these ADHD and autism and dyslexia, dyspraxia, all of these neurodiverse diagnoses are brain-based. And I think that that is the piece that culture, in general, is missing. We know that they're brain-based, and yet we're taking a behavioral modification approach to change the manifestations of these disabilities, and that's not getting at the root of the skills that aren't there.
For more information about Courtney Edman:
Website: 2TametheShameLinked in: 2TametheShame or Courtney EdmanFacebook: 2tametheshame
Support the show
Episode comments
1 Rating
eg., What part of this podcast did you like? Ask a question to the host or other listeners...
Generate a badge
Get a badge for your website that links back to this
Select type & size