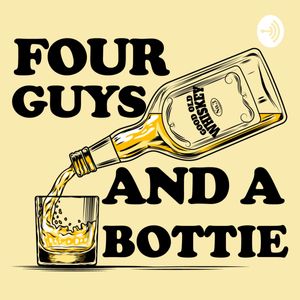 4 Guys & a Bottie
4 Guys & a Bottie
4 guys & a bottie!!!! The name is self descriptive. It is 4 guys and a bottie.....or five, number to be determined on episode by episode basis. Normal convo you would have with your guys in a local about stuff affecting us as Kenyans. and the quality of the conversation starts deteriorating hizo tei ziki anza kushika au vipi hahaha!! enjoy
Top 10 4 Guys & a Bottie Episodes
Best episodes ranked by Goodpods Users most listened
02/13/19 • 71 min
4 guys & a bottie!!!!
The name is self descriptive. It is 4 guys and a bottie.....or five, number to be determined on episode by episode basis. Normal convo you would have with your guys in a local about stuff affecting us as Kenyans. and the quality of the conversation starts deteriorating hizo tei ziki anza kushika au vipi hahaha!! enjoy
02/13/19 • 71 min
Show more
How many episodes does 4 Guys & a Bottie have?
4 Guys & a Bottie currently has 1 episodes available.
What topics does 4 Guys & a Bottie cover?
The podcast is about Society & Culture and Podcasts.
What is the most popular episode on 4 Guys & a Bottie?

The episode title 'EP1 - KENYAN IDENTITY, KENYAN MUSIC' is the most popular.

What is the average episode length on 4 Guys & a Bottie?

The average episode length on 4 Guys & a Bottie is 72 minutes.

When was the first episode of 4 Guys & a Bottie?

The first episode of 4 Guys & a Bottie was released on Feb 13, 2019.

Show more FAQ
Comments
Rating