Back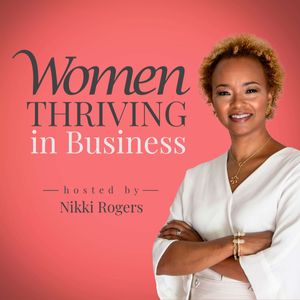 It is nerve-racking to relinquish control of something that you have created. As a business owner, you may want to maintain control of everything because you are scared to allow others to help you. However, the time you spend on tasks that do not generate revenue can be spent more effectively on growing your business.
It is in your best interest to delegate management of the operation to someone more capable, so that you may concentrate on the tasks that are most suited to your strengths. Hiring a remote team can be a big advantage for your business as it will enable you to concentrate more on generating-revenue tasks. Rather than having to juggle multiple responsibilities, it will allow you and your business to flourish, generate MORE revenue, and enjoy your entrepreneurial journey.
The Thriver joining us this week is Nicole Grinnell, Founder, and CEO of Bosun Solutions, a staffing and recruiting firm that holistically solves clients' problems by providing the right remote team members for all back-office roles who can operate a business. Nicole takes her passion for organization, assisting, efficiency, and providing the solution to her client's problems. Thinking of her father who was forced to juggle it all, she now finds joy in providing the relief small business owners need allowing them to grow, be profitable and enjoy their passion.
Nicole shares with us the signs that business owners should look for when considering whether to seek more support and the value of having a remote team that allows you to focus on generating revenue for your business.
Be inspired. Be empowered. Listen to Episode 709 to learn more!
Other Resources Mentioned:
Thriving Points:
When you're first starting out, I guarantee you there is money in your inbox. -Nicole Grinnell
Pivoting and really kind of going to that next step is scary, especially when this is your comfort zone. - Nicole Grinnell
It's a trust fall, but it's actually an experience I'm thankful we had because now we can talk to that as well with our clients and say, I understand change is hard and I understand that this feels safe and secure, but I'm gonna need you to trust me and let's move into this. - Nicole Grinnell
Our goal is to serve our clients, and so we wanna be really mindful of that and always keep our motives right. - Nicole Grinnell
About the Show:
Women Thriving in Business features candid unscripted conversations with entrepreneurs, business experts, authors, and academics aimed at contributing to business success. This weekly show provides interviews with business leaders who have built, grown, and are thriving in business. Nikki A. Rogers, host of the show, also discusses achievements, lessons learned, and advice for aspiring business owners to develop the mindset, strategies, and connections necessary to thrive in business. Whether you are just starting or you have been in business for decades, WTiB offers inspiration, strategies, and resources to help you THRIVE in business.
Connect with Nikki:
Episode comments
1 Rating
eg., What part of this podcast did you like? Ask a question to the host or other listeners...
Generate a badge
Get a badge for your website that links back to this
Select type & size