Back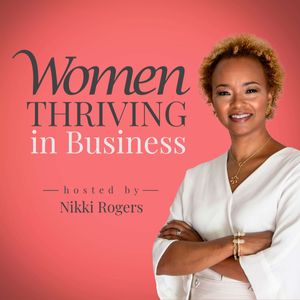 "Owning and running a business and being an entrepreneur is truly one of the hardest things that you can do just because there's so much culpability and pressure and there's so much understanding required. It's a big, big responsibility. So I think just being able to keep weathering the storm and showing up day after day is an accomplishment in and of itself." - Kat Eckles
How many times have we heard this story: a serendipitous event or an unplanned decision led to the genesis of a thriving business. What you'll hear on this episode is one of those inspiring and captivating stories.
Kat Eckles, Co-founder of Clean Juice, and her husband thought about starting a business for only 24 hours before making decisions that would ultimately transform their lives. That's not to say that they made their choice at a whim, but were driven by their desire to be together and start their own venture. Fast forward to today, Clean Juice has grown from a single location to a multi-million-dollar franchise corporation.
Listen to this episode and hear Kat discuss the importance of being willing to evolve in business, overcoming major challenges, and facing your fears. Learn key lessons such as not being too dogmatic about anything - be it in business or in life, avoiding the trap of perfectionism, and the amazing world of agriculture.
Thriving Points:
We really started to dig in on what franchising was. We got connected to people. And we really figured out that it was probably the best way for us to grow. - Kat Eckles
Go back to trusting your gut and be intuitive in business. - Kat Eckles
Farming is amazing. When you really dig into all that goes into it - the hard work and just the intricacies and the small margins - it's really incredible when you figure out how our food is grown. - Kat Eckles
We've matured a little bit as a business. We went for having a more consistent, offering versus just chaotic growing at lightning speed. - Kat Eckles
I'm a big believer in meditation. The benefit is you're going inside. You're very quiet. You're silent in yourself. - Kat Eckles
Get to Know the Guest:
Kat Eckles is the Co-Founder of Clean Juice, the first and only USDA-certified organic juice and food bar franchise. When clean eating expert Kat Eckles approached her husband Landon with an idea to start an all-organic juice bar, Landon quickly quit his corporate job and the couple relocated to Charlotte with a plan to open Clean Juice.
Connect with Kat:
About the Show:
Women Thriving in Business features candid unscripted conversations with entrepreneurs, business experts, authors, and academics aimed at contributing to business success. This weekly show provides interviews with business leaders who have built, grown, and are thriving in business. Nikki A. Rogers, host of the show, also discusses achievements, lessons learned, and advice for aspiring business owners to develop the mindset, strategies, and connections necessary to thrive in business. Whether you are just starting or you have been in business for decades, WTiB offers inspiration, strategies, and resources to help you THRIVE in business.
Connect with Nikki:
Episode comments
1 Rating
eg., What part of this podcast did you like? Ask a question to the host or other listeners...
Generate a badge
Get a badge for your website that links back to this
Select type & size