Back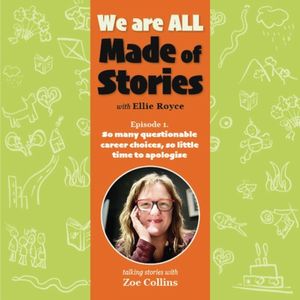 Hello Story Lovers! I'm Ellie Royce, author, story catcher and creative human. Stories are threads that weave us into families, communities and cultures. As this strange year of 2020 draws to a close, I'm setting off on an exploration of stories, what they are, what they mean , how we consume them and how they help us navigate our way through this twisty, turny thing called" life". I have no idea where it will take me but one thing I know for sure, it'll be interesting. Thanks for coming along for the ride!
NOTE TO LISTENERS- THIS PODCAST IS ADULTS HAVING AN ADULT CONVERSATION (MORE OR LESS...) SO THERE IS AN OCCASIONAL SWEAR. NOTHING EXPLICIT BUT IF YOU HAVE LITTLE ONES AROUND YOU MAY WANT TO WEAR HEADPHONES.
EPISODE ONE- In spite of the title , Zoe and I never actually got around to discussing her questionable career choices. Maybe that's because we talked about so many other things- creative voice, how creativity manifests itself, finding the exact right sticky tape, talking to yourself, rabbit holes leading to mathematical explanations for individuality, how to maintain your creative flow when you're a Mum and the dire consequences of not, introversion versus extroversion, plus a food story or two.
I also discuss how this year has been for me as an Aussie kidlit author with her very first U.S publication "Auntie Uncle ; Drag Queen Hero" (published by POW!Kids Books in New York, illustrated by Hannah Chambers) when the world has basically shut down!
Find me at https://www.ellieroyceauthor.com/ Our amazing Podcast Art is by Mardi Davies https://www.mardidavies.com/
Zoe Collins BIO
In writing her bio, Zoe Collins finds it increasingly difficult to define her creative endeavours. She writes, paints on canvas, collages, draws on her iPad, crochets, cooks, eats, talks, writes newsletters and sometimes imagines herself as a backing vocalist for an 80s rock band. She also has a quiet ambition and desire to avoid working for the man. Her latest creative endeavours include a range or two of spunky earrings, a tea towel design and random drawings on Noritake fine china.
As a graphic designer and illustrator she has worked in studios, run her own business and taught in universities. Her current teaching endeavours are strictly unbureaucratic and lean heavily towards creative problem solving and play.
Zoe lives in Brisbane with her three favourite humans, the best dog ever and a bastard of a cat. She enjoys making paper journals with her long-arm stapler and feeding appreciative eaters.
Bachelor of Arts — English and Media Studies, University of Queensland
Diploma in Visual Communication, Design College Australia .Graphic designer & illustrator — 2003 – current( I used to be a bookseller, nanny and a terrible secretary. I also worked for a summer in USA, teaching kids art and craft. So many questionable career choices, so little time to apologise). Find Zoe at https://www.hellozoecollins.com.au
Fabbo people we mention:
Julia Cameron https://juliacameronlive.com/the-artists-way/
'Wooly'John Woolrych - director at Colour Chiefs https://www.colourchiefs.com.au/
Jen Storer https://girlandduck.com/
Lilla Rogers https://makeartthatsells.com/

Episode comments
1 Rating
eg., What part of this podcast did you like? Ask a question to the host or other listeners...
Generate a badge
Get a badge for your website that links back to this
Select type & size