Back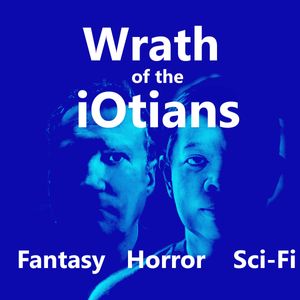 5.0
(5)
The iOtians celebrate the Dog Days of Summer by checking out some great streaming content: Prey on Hulu, Westworld Season 4 on HBO Max, and Neil Gaiman's The Sandman on Netflix. They also share their thoughts on the forthcoming House of Dragons (HBO Max) and Rings of Power (Amazon Prime).
Jake and Ron also got in touch with authors they've interviewed in the past to see what they're reading and watching this summer:

Edward Ashton
CITY OF ORANGE, by David Yoon. A deep exploration of love and loss and what happens when the world ends but you're too stubborn or stupid to end with it.
THE 22 MURDERS OF MADISON MAY, by Max Barry. A police procedural that tripped and fell through a manhole into the multiverse.
And also the Futurama reboot. I don't have super high expectations for this one, but I know I'm gonna watch it anyway.
Sylvain Neuvel
Books: Face by Joma West comes out in a month or two. My favorite read in a while. The Violence, by Delilah Dawson is pretty recent and awesome.
TV. New season of For All Mankind coming to Apple TV. That show's a must for anyone who likes Take Them To the Stars.
Also, I think Strange New Worlds is the best trek yet
Juliette Wade
I'm hoping to read August Kitko and the Mechas from Space by Alex White, Saint Death's Daughter by C.S.E. Cooney, and Comeuppance Served Cold by Marion Deeds.
Neil Sharpson
Hi gents! At the moment I'm reading Trilby Black's excellent "Finnegan's Awake," a YA novel about a teenage girl who believes she's been raised to single-handedly fight the War on Terror.
I'm trying to read more Irish language stuff so I'm gearing up to tackle "Cluiche na Corónach" which is the translation of "Game of Thrones" (wish me luck).
The rest of my TBR pile consists of Lies of Descent by Troy Carroll Butcher and Blacktongue Thief by Christopher Buehlman. I'd recommend The Third Policeman by Flann O'Brian, one of the funniest science-fiction books ever written.
Marina Lostetter
I'm looking forward to reading Our Lady of Mysterious Ailments (book 2 in the Edinburgh Nights series) by T.L. Huchu,
What Moves the Dead by T. Kingfisher, The Book Eaters by Sunyi Dean, watching the adaptation of Mr. Malcom's List, and finally starting What We Do in the Shadows.
The Wrath of the iOtians
Email: thewrathoftheiotians@gmail.com
Instagram: thewrathoftheiotians
Twitter: @OfiOtians
Website: https://thewrathoftheiotians.buzzsprout.com/
Music
Land Of The Me-me by Aleksandar Dimitrijevic (TONO)
Licensed under the NEO Sounds Music License Agreement
Episode comments
5 Ratings
eg., What part of this podcast did you like? Ask a question to the host or other listeners...
Sep 1
Such a great podcast. Always fun to listen to.
2 Likes
Ron
@thewrathoftheiotians
Nov 6
1 Like
Nov 13
1 Like
Apr 7
2 Likes
Nov 6
1 Like
Show more
Generate a badge
Get a badge for your website that links back to this
Select type & size