Back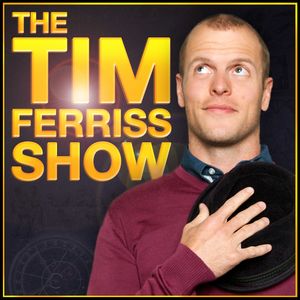 #599: New Insights from Sam Harris, Dr. Peter Attia, Ramit Sethi, and Elizabeth Gilbert
The Tim Ferriss Show
5.0
(5)
New Insights from Sam Harris, Dr. Peter Attia, Ramit Sethi, and Elizabeth Gilbert | Brought to you by Athletic Greens all-in-one nutritional supplement, Helix Sleep premium mattresses, and Allform premium, modular furniture. More on all three below.
Welcome to another episode of The Tim Ferriss Show, where it is usually my job to deconstruct world-class performers to tease out the routines, habits, et cetera that you can apply to your own life.
This episode is something different. It's an experimental format that I'm super excited about.
This is an episode that scratches an itch I've had for years. I am not always able to listen to every great podcast episode out there, even when they are by some of my closest friends. The answer to my predicament was to ask them to send me a top segment from their podcast that I could listen to and—more importantly—also share with you, my dear listeners.
My team edited them together, and here we are! This episode is a compilation of 15-to-30-minute clips from some the best podcasters in the world and certainly some of my favorites.
At the beginning of each clip you will hear an intro from the host and where to find their work and podcast. At the end, I'll also share one of my favorite clips from an episode of The Tim Ferriss Show.
You can view this episode as a buffet, and I strongly suggest that you check out the shows included. If you like my podcast, you will very likely enjoy the featured shows in this episode.
And before you go: Do you like this format? If so, please let me know on Twitter at @tferriss and also mention @TeamTimFerriss. Whether we continue this series or not depends on you.
Please enjoy!
[07:40] Sam Harris segment
[42:47] Peter Attia segment
[1:15:32] Ramit Sethi segment
[1:46:35] Elizabeth Gilbert segment
This episode is brought to you by Helix Sleep! Helix was selected as the #1 overall mattress of 2020 by GQ magazine, Wired, Apartment Therapy, and many others. With Helix, there's a specific mattress to meet each and every body's unique comfort needs. Just take their quiz—only two minutes to complete—that matches your body type and sleep preferences to the perfect mattress for you. They have a 10-year warranty, and you get to try it out for a hundred nights, risk-free. They'll even pick it up from you if you don't love it. And now, Helix is offering up to 200 dollars off all mattress orders plus two free pillows at HelixSleep.com/Tim.
*
This episode is also brought to you by Allform! If you've been listening to the podcast for a while, you've probably heard me talk about Helix Sleep mattresses, which I've been using since 2017. They also launched a company called Allform that makes premium, customizable sofas and chairs shipped right to your door—at a fraction of the cost of traditional stores. You can pick your fabric (and they're all spill, stain, and scratch resistant), the sofa color, the color of the legs, and the sofa size and shape to make sure it's perfect for you and your home.
Allform arrives in just 3–7 days, and you can assemble it yourself in a few minutes—no tools needed. To find your perfect sofa and receive 20% off all orders, check out Allform.com/Tim.
*
This episode is also brought to you by
Episode comments
5 Ratings
eg., What part of this podcast did you like? Ask a question to the host or other listeners...
Jun 13
Like
Jul 14
1 Like
Coyal Harrison III
@visitvegasplaces
Jun 10
1 Like
Oct 5
Like
Austin Boyer
@austinboyer25
Jun 9
Like
Show more
Generate a badge
Get a badge for your website that links back to this
Select type & size