Back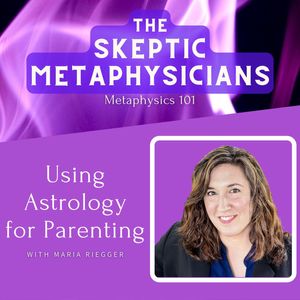 Astrology may be one of the most well-known modalities within the metaphysical space, but when it comes to kids, things get really complicated. So should you use astrology to profile your child? And how can you use the profile to help you position your children for success? Our next guest answers this and many other questions!
"You want to start with that strong relationship, unconditional love and acceptance, but then I add the nuance of astrology so you can understand your children a little bit better."
--Maria Riegger
Most parents today expect their children to do exactly what they are told because they are so told, and they expect them not to have feelings (or to constantly control their feelings, which is hard for a young child to do). Families today appear to have every minute of their lives scheduled. Parents sometimes are more concerned that their children follow society-based rules than in forming a bond with their children. Forming a strong relationship with one's children takes time and effort (and a TON of patience); and it's virtually impossible if you have every minute of your day scheduled with activities with no down time.
Parents who are astrologers parent from a place of understanding and empathy, and try to give their children all the unconditional love and support they need in order to independently live their own lives, because they know that soul is more important than ego every time.
About Our Guest::
Maria Riegger is based in the Washington, DC area. She is a banking /corporate attorney by day, and an author by night. She writes contemporary fiction, including romance and romantic suspense; and parenting/self-help books.
Maria is a Gemini whose head has always been in the clouds. Her worst fear is boredom. She has been writing since she was about thirteen years old. A lover of languages, she speaks French, Spanish, Catalan and some Portuguese; and has lived in the U.K., France and Spain.
In true Gemini fashion, she indulges both her logical personality as an attorney as well as her creative personality. And because Maria is an overactive Gemini, she is also a practicing astrologer.
Guest Info:
Website: lawschoolheretic.com
Facebook: @Maria-Riegger-Positive-Parenting-through-Astrology
Instagram: @rieggemr
Twitter: @RieggerM
YouTube: channel/UCIvSb2h5u1_z7YCe5aIyOug
Email:
maria@lawschoolheretic.com
Skeptic Metaphysician Info:
Website:
https://www.skepticmetaphysician.com
IG:
https://www.instagram.com/skepticmetaphysician_podcast
Twitter:
https://twitter.com/WillRodriguezFl
Facebook:
https://www.facebook.com/SkepticMetaphysician
Get Your Skeptic Metaphysicians Merch:
https://www.skepticmetaphysician.com/store
Like the show?
We'd love to hear your thoughts!
Please rate/review the show here:
https://lovethepodcast.com/SkepticMetaphysicians
Episode comments
1 Rating
eg., What part of this podcast did you like? Ask a question to the host or other listeners...
Generate a badge
Get a badge for your website that links back to this
Select type & size