Back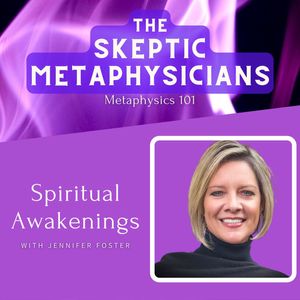 Everyone has heard about the struggles associated with spiritual awakenings. Birth of any kind, be it physical or spiritual, are often messy and difficult. But sometimes, they are so profound that they make people question even their sanity. Lives are shaken, worlds are changed, sometimes in devastating ways. This is a story that starts similarly, but ultimately shows us what great gifts can open up when we trust the guidance of our souls.
"We're all just living a fraction of our abilities. And when we open up to them and we start to really understand what we're capable of, magic can happen all around us."
--Jennifer Foster
Prior to embracing her role as a healer, Jennifer spent over 30 years enjoying life as a creative professional and volunteering for a variety of philanthropic endeavors. She owned her own production company and worked with some of the largest corporations in the world. In October of 2020, she abruptly set off an a yearlong adventure that her soul was calling her to. She had no idea why her Higher Self was so persistent that certain aspects of her life must change. She was being pointed towards Bali but had no idea why. She had never been there nor had much of an interest to; however, she was now being prompted to leave behind life as she knew it and travel across the world... during a pandemic!
While it didn't make any sense to her, or to most who knew her, she followed the calling nonetheless.
About Our Guest:
Jennifer Foster is a channel, a medium, and a healer who works with Spirit and energy to help others heal emotionally, energetically, physically, and spiritually. The path that led Jennifer to this work is one of divine guidance, a lifetime of challenges, and a lifelong journey back home to her soulful self. In order to open up these gifts, Jennifer was extracted from life as she knew it.
She is learning to embrace her role as a healer and walk in her truth in a way that helps others discover and embrace who they are too.
Her gifts of channeling, mediumship, and healing opened up while living in Bali, Indonesia on a particularly challenging soul integration trip in early 2021. This came after several intense years of her own personal and spiritual exploration that followed a spontaneous kundalini awakening (caused by a cycling crash) in 2015. That moment rerouted her life in a direction she didn't see coming.
With the support of her guides, Jennifer now comfortably navigates between the realms of the seen and unseen worlds and helps others do-so as well.
Guest Info:
Website: fosterspiritualgrowth.com
Facebook: @fosterspiritualgrowth
Instagram: @fosterspiritualgrowth
Skeptic Metaphysician Info:
Website:
https://www.skepticmetaphysician.com
IG:
https://www.instagram.com/skepticmetaphysician_podcast
Twitter:
https://twitter.com/WillRodriguezFl
Facebook:
https://www.facebook.com/SkepticMetaphysician
Get Your Skeptic Metaphysicians Merch:
https://www.skepticmetaphysician.com/store
Like the show?
We'd love to hear your thoughts!
Please rate/review the show here:
https://lovethepodcast.com/SkepticMetaphysicians
Episode comments
1 Rating
eg., What part of this podcast did you like? Ask a question to the host or other listeners...
Generate a badge
Get a badge for your website that links back to this
Select type & size