Back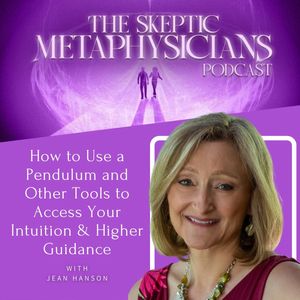 This week is all about how to access your higher guidance in order to help you understand what direction you're supposed to be heading in. By the end of this episode, you're going to know just how powerful it is to trust your guidance and what might be the very best tool to do just that...the pendulum! When Jean Hanson unwittingly answers her own higher guidance to uproot her life and move across the country, she discovers a mysterious and powerful tool to unlock her divine life purpose - dowsing.
On this episode, you will learn:
1. How to use dowsing and a pendulum to connect to and trust your higher guidance
2. Tools that will help you tap into your intuitive abilities
3. Great, easy ways to help raise your vibrations in order to access your intuition, that won't make people think you're crazy
4. Why not everything you get drawn to is something that you should immediately jump into
5. Jean's unique connection to the Harmonic Egg
Jean Hanson is a certified higher guidance life coach, energy healer, and co-owner of Realign Your Life Wellness Center in Mesa, Arizona. She has an inspiring story of how she answered the call of her higher guidance and moved across the country to help others heal.
"Trust your higher guidance and tap into this incredibly powerful intuitive ability to discover your life's purpose." - Jean Hanson
Jean Hanson discovered her life's purpose through the use of a pendulum, which she used to communicate with the spiritual realm. She learned to trust her higher guidance and embarked on a journey of discovery. Through dowsing, she was able to connect with her spirit guides, and found the pendulum to be a gentle way to awaken her gifts and to keep pursuing her path. And listen to her help Will determine the very best vacation destination for him, by using the pendulum!
Resources:
Trust Your Higher Guidance: Align Your Life to Manifest the Joy and Success you Deserve by Jean Hanson
https://www.amazon.com/Jean-Hanson/e/B00KCW7680
The Pendulum Instruction Chart Book: The Doorway To Knowing Your Intuitive Mind by Dale Olson
https://www.amazon.com/Pendulum-Instruction-Chart-Book-Intuitive/dp/1879246031
Power vs. Force: The Hidden Determinants of Human Behavior by David Hawkins
https://www.amazon.com/Power-vs-Force-David-Hawkins-ebook/dp/B00EJBABS2
ABOUT OUR GUEST:
Jean Hanson is a Certified Higher Guidance Life Coach, energy healer and co-owner of Realign Your Life Wellness Center in Mesa, Arizona. Prior to this, Jean and her husband, Steve, owned two successful companies that helped thousands of business owners through the tools and guidance they provided for their online community. Answering the call of their own higher guidance, they sold their last company, sold their home in Minnesota, and moved across the country to start another business to help others heal, while at the same time realizing their dream of living in Arizona. You can learn more about Jean and her business at JeanHanson.com and RealignYourLifeAZ.com
Guest Info:
Website:
https://www.jeanhanson.com
Instagram:
https://www.instagram.com/jeanhansonhealer
Facebook:
https://www.facebook.com/jeanhansonhealer
LinkedIN:
https://www.linkedin.com/in/jeanhanson
Other episodes you'll enjoy:
The Truth Behind Astrology
https://www.skepticmetaphysician.com/the-truth-behind-astrology-with/
Runes - The Language of the Gods
https://www.skepticmetaphysician.com/runes-the-language-of/
Tools of the Shaman and Plant Medicine
https://www.skepticmetaphysician.com/tools-of-the-shaman-and-plant-medicine/
Connect With The Show:
Website:
https://www.skepticmetaphysici...
Episode comments
1 Rating
eg., What part of this podcast did you like? Ask a question to the host or other listeners...
Generate a badge
Get a badge for your website that links back to this
Select type & size