Back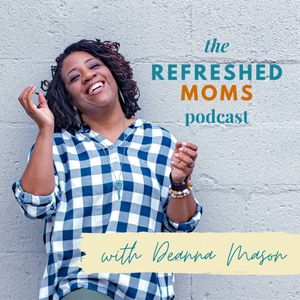 #107b - The Parenting Well Series - Using Family Meetings to Get the Help You Need at Home with Dr. Kerstin Kirchsteiger
The Refreshed Moms Podcast
If you've ever stood and glared at your husband or child in contempt while they sat peacefully in the living room relaxing after a day of work or school while you sweat away in the kitchen over a meal - that they may or may not eat - after your own full day of work (and in my case right now work AND school), honey, you ain't alone.
Don't you wish everyone in that living room would look up and notice those droplets of sweat on your brow?
Wouldn't it be amazing to see them all RISE from their couch slumber to take the weight off of you and come help in the kitchen - chop a veggie or two, wash out that pot you need to cook (because one of those jokers used it earlier in the day), or just ask you if they can help you in any way?
Well, it doesn't work like that in my home. At all.
I have to open my mouth and let people know how I need help, and magically, most of the time when I do, I get the help I need. They honestly are really great at pitching in.
However, opening my mouth after stewing in contempt for 20 minutes in the kitchen usually doesn't go well for me. We all end up frustrated at each other, and the help I receive is being executed very reluctantly.
The only way I've managed to feel consistently supported - without everyone in the house giving me the stink eye - has been talking about it first at a completely different time in a relaxed, friendly setting.
And this episode is going to talk about how to do just that.
I'm chatting with my friend and Life and Leadership Coach Dr. Kerstin Kirchsteiger about how using family meetings can change the game in regards to getting the help and support you need from your family while working, homeschooling, and managing the home.
We all need and deserve the help, and it may just be one short family conversation away.
CONNECT WITH DR. KERSTIN
Download her Family Meetings Blueprint below:
https://www.kerstinkirchsteiger.com/familymeetingsblueprint
****************************************************
FREE Mini-Course - Making a Rest Plan
You can turn business burnout around, and it begins with knowing how to rest.
This mini-course includes very short video lessons on the 7 ways to rest, my Rest Needs Quiz, and the Graceful Transitions Meditation for Moms.
Enroll at deannamason.com/makearestplan
How to Pray in Color Video Tutorial
Busy mom leaders struggling to prioritize prayer can turn rushed, distracted attempts into connected intimacy in minutes with this refreshing approach to spending time with God.
deannamason.com/prayingincolor
Rest & Business Consulting
If your life feels too full and misaligned with your desires around spending time with God, being a present mom, and doing fulfilling work, rest consulting may be exactly for you.
I help overcommitted mom leaders lacking time and life margin to realign their work, faith and rest practices in order to feel connected to God, spiritually refreshed, and financially fulfilled.
Find out more about working with me by clicking the link below:
deannamason.com/restconsulting
Instagram: @refreshedmoms
Episode comments
1 Rating
eg., What part of this podcast did you like? Ask a question to the host or other listeners...
Generate a badge
Get a badge for your website that links back to this
Select type & size