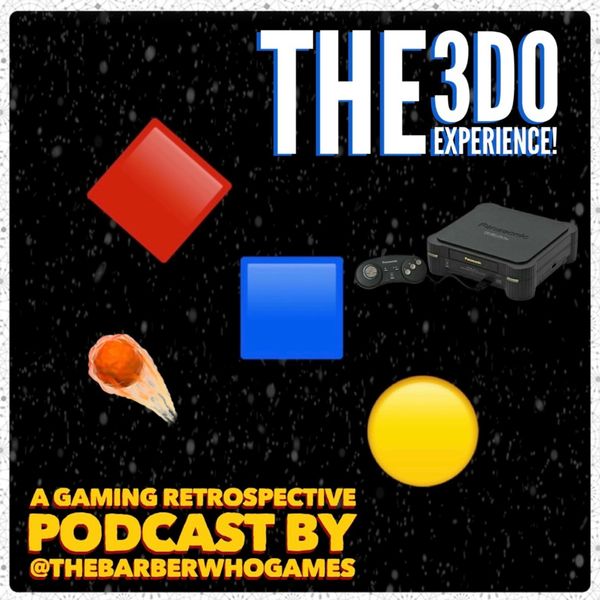 The 3DO Experience!
thebarberwhogames

1 Creator
5.0
(15)

1 Creator
Welcome to the world of the 3DO Interactive Multiplayer System, the failed 32-Bit creation of The 3DO Company. Join Host Bill (@thebarberwhogames) as he dives into the systems history along with the story of the company behind it!



12 Listeners
5.0
(15)
1 Comment
Top 10 The 3DO Experience! Episodes
Best episodes ranked by Goodpods Users most listened
09/18/22 • 63 min
5.0
Hey guys and welcome to the third episode of the 3DO Experience where Bill along with KC of Desert Level Gaming take a look at the various released and unreleased versions of the 3DO Console, talking about the pros and cons of each while also giving there own personnel experiences!
Check Out KC's content at twitch.tv/desertlevelgaming
https://podcasts.apple.com/ie/podcast/gaming-in-the-desert-a-nintendo-podcast/id1516314065
09/18/22 • 63 min



9 Listeners
9 Comments
9
08/26/22 • 17 min
5.0
Hello and welcome to the introduction of the 3DO Experience, a retrospective gaming podcast discussing the short lived 3DO Interactive Multiplayer System and the company behind it the titular 3DO Company. This will be a brief introduction going over my history with the system plus discussing my plans going forward for the show.
Its going to be an interesting ride!
08/26/22 • 17 min



5 Listeners
5 Comments
5
09/07/22 • 52 min
5.0
Hey guys and welcome to the second episode of The 3DO Experience as Bill alongside Josh of Still Loading Podcast take some time to discuss the early days of the titular 3DO Company including the creation of the 3DO concept up until the systems eventual launch.
Check out Josh's show at https://stillloading.libsyn.com/
09/07/22 • 52 min

3 Listeners
3 Comments
3
Show more
How many episodes does The 3DO Experience! have?
The 3DO Experience! currently has 3 episodes available.
What topics does The 3DO Experience! cover?
The podcast is about Leisure, Podcasts and Video Games.
What is the most popular episode on The 3DO Experience!?

The episode title 'The 3DO Experience - Episode 3: The Difference Faces Of The 3DO! (ft. KC of Desert Level Gaming)' is the most popular.

What is the average episode length on The 3DO Experience!?

The average episode length on The 3DO Experience! is 45 minutes.

How often are episodes of The 3DO Experience! released?

Episodes of The 3DO Experience! are typically released every 11 days, 7 hours.

When was the first episode of The 3DO Experience!?

The first episode of The 3DO Experience! was released on Aug 26, 2022.

Show more FAQ
Comments
15 Ratings
Playcube Gamecast
@playcubegamecast
Oct 14
Like