Back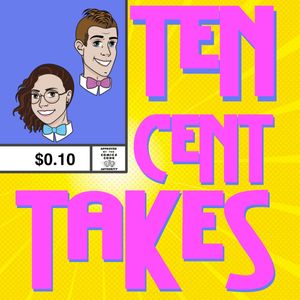 5.0
(11)
Things are starting to come to a head in our penultimate episode for The Sandman Book Club! Brief Lives follows the story of Dream and Delirium as they search the world for Destruction, their missing brother. Meanwhile, the next volume (The World's End) brings us another anthology with hints at what to expect in the final two volumes of the series.
----more----
Jessika: I feel like I'm very straight passing recently. So I went out and ordered by self some doc Martins, just work there. These are my doc Martins. I am bisexual. *laughs*
Hello! Welcome to Ten Cent Takes, the podcast where we seek to find Destruction one issue at a time. My name is Jessika Frasier, and I'm joined by my cohost, the fountain of facts, Mike Thompson.
Mike: Hello. Hello. Hello.
Jessika: Hello, Mike. And if you, listener, are new around here, the purpose of this podcast is to study comic books in ways that are both fun and informative. We want to look at their coolest, weirdest and silliest moments, as well as examine how they're woven into the larger fabric of pop culture and history.
This episode, we're continuing on with the fourth episode of our book club as we discuss volume seven and eight of the Sandman series, if you haven't already listened to our previous episodes on the Sandman and want to catch up, which by the way, we highly recommend we're discussing two volumes at a time.
So go check out episode 15 for volumes one and two episode 17 for volumes three and four, and episode 19 for volumes five and a six,
And if you're thinking "These guys are great. I would love to show my support for this amazing podcast, but how?" Well friends I'll tell you. It really helps us. If you rate and review us on the platform you're listening through, especially apple pod pass and pod chaser, it really helps with discoverability and in helping us reach other nerdlings that just might enjoy the show.
Plus it gives us that validation boost that Mike and I both being generally anxious, so need. So show us some love wherever you listen, please. And thank you. You can also tell your friends how awesome we are so they can join in on this fun.
Mike: Yeah. Uh, I definitely thrive on words of affirmation as pointed out by Comic Book Couples Counseling in our last episode.
Jessika: Yes, please give us all the affirmation. But before we jump into our main conversation about volume seven and eight of the same. what is one cool thing you've read or watched lately?
Mike: I recently learned that the Books of Magic, which is a bit of a spin-off to the Sandman and a bit of sequel and a bit of something totally original, is getting the omnibus treatment. So this was actually really exciting for me because I read all the trades when I was in high school and college. And I was disappointed at how it felt like the series ended halfway through the story.
And then I learned way later that DC only collected the first 50 of like 75 total issues into trades, which is why the series felt like it ended the way it did, I guess. Didn't sell that well. And so DC stopped putting them out, but DC put out an omnibus late last year, and then they're going to release another one in a couple of months.
And it's going to contain the rest of the series as well as all of the different tie in books. And I wound up getting it for over half off from Target during this big deal they had on books where it was like, buy two, get one free. And they also weirdly had it for over half off. So yeah, I snapped that fucker up.
Jessika: Hey hey tar-get.
Mike: I know. Right. It was great. but yeah, we've been having a lot of rainstorms here in the bay area lately, and it's kind of the perfect weather to read an oversized book, featuring the adventures of Tim hunter, who is this British teenager who's due to become the most powerful magician in the current age of man and...It's a really good read still. It's one of those books from the nineties that was originally a mini series by Neil Gaiman, and then other authors picked it up and put their own spin on it, you know? And we saw that with Lucifer as well. the books of magic had a couple of different authors, but they had prolonged runs and then they had a rotating cast of artists meanwhile Lucifer had Mike Carey at the helm guiding everything for all 75 issues.
And then Neil Gaiman wrote the original miniseries for the books of magic, but then, you can still feel his fingerprints all over it, which is really cool.
Jessika: Yeah, that's neat.
Mike: Yeah. There's some cool little Easter eggs in it. Like I think I mentioned in last episode during the brain wrinkles about how we actually see Hamnet, who was in the Midsummer Night's Dream issue of Sandman show up in the Books of Magic as the page of Titania, the queen of fairies.
Jessika: Yeah, totally validated me.
Mike: I remember, you an...
Episode comments
11 Ratings
eg., What part of this podcast did you like? Ask a question to the host or other listeners...
Dec 20
Like
Jan 18
Like
Dec 9
Like
Dec 11
Like
Casey Fatchett
@thenerdyphoto
Dec 17
Like
Dec 20
Like
Jan 18
Like
Dec 11
Like
Show more
Generate a badge
Get a badge for your website that links back to this
Select type & size