Back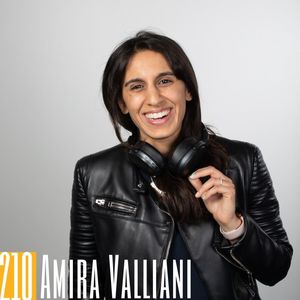 5.0
(3)
01:05 – Harry wishes the audience a Happy New Year and his resolution to simplify his work and life
02:16 – Harry thanks today's sponsor, Focusrite 2i2
02:50 – Harry welcomes to the podcast, Amira Valliani
04:04 – Harry thanks the second sponsor of today's podcast, FullCast
05:03 – Amira's first recollections and experiences growing up immersed in technology
10:26 – Major Influences in Amira's worldview and life
18:25 – How Amira and her family were impacted as Muslim Americans post-9/11
24:12 – Amira's early career and co-founding Glow
32:46 – Early challenges and obstacles with Glow and how Glow works
37:13 – How Glow's technology works, and technical obstacles Amira encountered along the way
41:56 – What excites Amira the most about the future of Glow
47:15 – What is something that Amira has changed her mind about recently
49:47 – What is the most misunderstood thing about Amira
51:11 – Harry thanks Amira for joining the show
51:45 – Where listeners can follow Amira
TWEETABLES
"I think it's why I gravitate so much towards storytelling. I think so much of the world is about being able to tell a story and take someone else's experiences and communicate them in a way that is easy for other people to internalize." (13:07)
"What we [the Muslim community] should have been doing, I think proactively, is going out and telling our story and talking about the values that we preach that I think are very American values and finding ways to engage with the community more and more." (20:08)
"What I realized is, one of the things I really excel at is going out to find scrappy ways to get it done, seeing a problem, coming up with different solutions, experimenting." (28:33)
"For the podcasters out there, or for anyone, Glow is designed to be the best way for podcasters to be able to let listeners pay them directly. And, it can either be for listener support or to actually charge for content." (34:36)
"I'm just really excited to help give podcasters a new way to make money. My personal goal is I want to be able to create a thousand new podcasting entrepreneurs." (42:12)
THANK YOU SPONSORS!
Focusrite - Makers of my go-to sound card, the Scarlett 2i2
Aweber - Hosts of the Beyond the Podcast Summit
LINKS MENTIONED
Amira's Twitter – @amiravalliani
This podcast uses the following third-party services for analysis:
Chartable - https://chartable.com/privacy
Episode comments
3 Ratings
eg., What part of this podcast did you like? Ask a question to the host or other listeners...
Feb 19
For any of you who have your own podcast, this is a must listen!
Like
Alexandra Cornejo
@alliethelibrarian
Feb 20
Like
Feb 19
Like
Feb 19
Like
Generate a badge
Get a badge for your website that links back to this
Select type & size