To access all our features please use the Goodpods app.
Open the app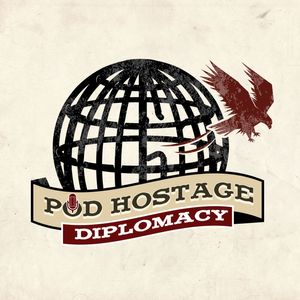 Aya Hijazi, American citizen and humanitarian previously held in Egypt | Pod Hostage Diplomacy
Pod Hostage Diplomacy
Aya Hijazi is an American citizen and a humanitarian. She is the founder and Director of the Belady Foundation that worked to help children in Egypt who lived on the streets. In May 2014 when the crackdown on civil society in Egypt was gathering pace, Egyptian police raided the Belady Foundation's offices and arrested Aya, her husband and her colleagues. They were wrongfully imprisoned in Egypt for almost 3 years.
Human Rights Watch called their wrongful imprisonment a travesty of justice. The US government publicly called for Aya's release and she was eventually freed in April 2017. On this episode, we have the honour of speaking to Aya herself.
Aya gives us an overview of the political climate in Egypt in 2014 and walks us through her arrest, her interrogation in a police station where she was assaulted and accused of being an American spy, conditions of her detention, the medical issues she suffered from while she was in prison, her sham trial, using her time in prison to learn French, Spanish and drawing as well as how she found the strength to keep on going during those three years. Aya gives recommendations to other former hostages and hostage families on how to persevere through this trauma and tells us what she's been up to since her release.
We then discuss what the Egyptian and American governments should do better, how the media can really help make a difference in raising awareness of a hostage's case as well as what the public can do to help.
Aya also reveals that on the day of her release from prison, she was taken to meet the Egyptian Director of National Intelligence who forced Aya to attend a meeting with US President Donald Trump at the White House – a meeting she didn't want to attend. She was told there would be consequences to her husband if she refused.
Since Aya's release, she has been advocating for human rights in Egypt and she talks about British-Egyptian human rights activist, Alaa Abd El-Fattah who has been on hunger strike for months as well as the murder of Italian citizen and Cambridge University student, Giulio Regeni who went to Egypt to research labour unions.
If you prefer, you can watch the video version of this interview on YouTube.
For more information on Aya Hijazi, please check out the following:
Get the latest updates on hostage cases we at Pod Hostage Diplomacy are working on including new episodes by subscribing to our fortnightly newsletter, the Hostage Briefing. Subscribe here.
You can also follow us on Twitter, Facebook and Instagram.
Support the show
Episode comments
1 Rating
eg., What part of this podcast did you like? Ask a question to the host or other listeners...