Back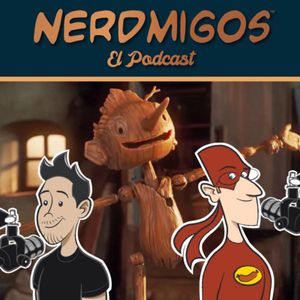 ¡'Pinocchio', 'Disenchanted', 'Wonder Woman 3', Game Awards 2022, L.A. Comic Con 2022, y más!
Nerdmigos
5.0
(4)
Isma y nuestra invitada, actriz, cantante, compositora, quizmaster, modelo, cosplayer, gamer, y fangirl profesional, Denisse Bon, platican sobre 'Pinocchio' de Guillermo del Toro, 'Disenchanted', "Wednesday", y "Willow" 🤓🎙️🤘🇲🇽
Además, noticias recientes, incluyendo "Wonder Woman 3" de Patty Jenkins, 'Joker: Folie à Deux', Kevin Conroy en "Suicide Squad: Kill the Justice League", The Game Awards 2022, y Los Angeles Comic Con 2022.
¡Bienvenidos a Nerdonia!
Instagram de Denisse Bon: https://www.instagram.com/jedibonbon
#WelcomeToNerdonia #Nerdmigos #podcast #Nerd #Geek #CulturaPop #PodNation #IndiePodcastsUnite #LatinoPodcast #Pinocchio #GuillermoDelToro #Disenchanted #Wednesday #Willow #WonderWoman3 #PattyJenkins #Joker2 #KevinConroy #TheGameAwards2022 #LAComicCon2022
SITIO WEB OFICIAL:
TIENDA NERDMIGOS: https://www.teepublic.com/stores/nerdmigos?ref_id=27640
JUST THE TIP (PayPal Tip Jar) http://paypal.me/IAMOdoodles
"NERDMIGOS" en PATREON:
https://www.patreon.com/Nerdmigos
FACEBOOK:
https://www.facebook.com/nerdmigos
TWITTER
TIKTOK
https://www.tiktok.com/@nerdmigos
INSTAGRAM:
https://www.instagram.com/Nerdmigos
YOUTUBE:
https://youtube.com/@Nerdmigos
GOODPODS:
https://www.goodpods.com/podcasts/185890
Con Ismael Alejandro Moreno Ozuna (Caricaturista y Diseñador de Personajes).
Inscríbete para una clase online GRATIS con IAMO: https://www.iamodoodles.com/nerdmigos
INTRO:
Voz: Mariela de Suamca
Música: Sith Vázquez (Natalia Conrique)
"Fe en el corazón"
Interpretada por Alex Murillo
Escrita por Diane Warren
Traducida al español por Alex Murillo
Episode comments
4 Ratings
eg., What part of this podcast did you like? Ask a question to the host or other listeners...
Dec 13
1 Like
Ismael Alejandro Moreno Ozuna
@iamo
Dec 12
New episode where we talk about 'Guillermo del Toro's Pinocchio', 'Disenchanted', "Wednesday", "Willow", and more... En Español!!! 🤓🎙️🤘🏼🇲🇽
Like
Dec 14
Like
Dec 12
Like
Generate a badge
Get a badge for your website that links back to this
Select type & size