Back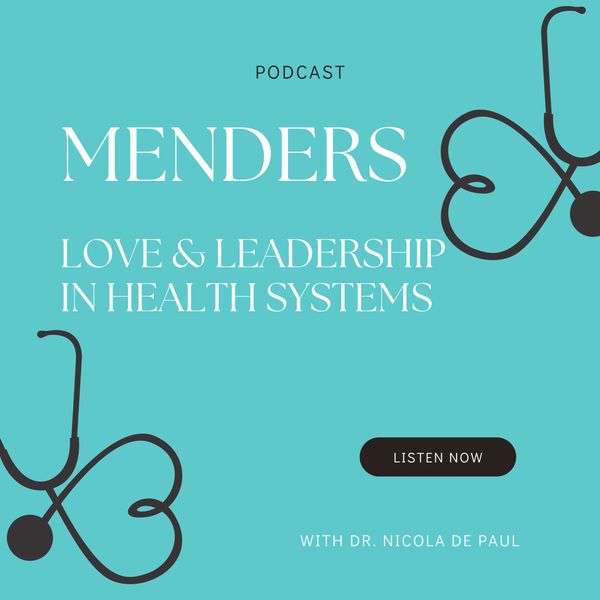 For Menders' episode 22, I had the opportunity to sit down with Dr. Khara Jefferson, a functional wellness consultant and the owner of KAJ Wellness. I found this conversation fun and joyful, and I hope you feel the same way!
Khara brought her functional medicine perspective and her history as an emergency medicine practitioner to our conversation. She shared her current approach to helping people move towards gut health, or as she says, to go from "toilet hell to feeling well." Khara shared that changing how she interacts with patients has allowed her to get more joy out of her clinical work and keep herself sustainable.
And finally, we explored how she might take a functional medicine approach to examine the root causes of distress in our healthcare system. The excellent news is that Khara believes we can create transformation, but it will involve all of us fully committing to the process.
· How her own experience with a chronic illness impacted her journey into the field of medicine.
· Why she sees helping our patients understand the "how" of change as more crucial than telling them "what" they need to change.
· And why she believes everyone should be equipped with skills to conduct a rapid quality improvement project.
I hope this conversation inspires you to take care of yourself and take the time to find the root cause of distress on your team or in your system.
My favorite quotable moment from this episode!
"When a whole bunch of people are doing a whole bunch of the same things, it's a ripple effect...and if you start by putting a whole bunch of little bitty things into place, eventually those little things become big things, and those big things will become huge things. That's how we improve healthcare, but it can't be just me. And it can't be just you. It has to be a whole bunch of like-minded people."
Dr. Khara Jefferson (Menders, episode 22)
Additional Resources:
Find Dr. Khara Jefferson at https://www.kajwellness.com/

Leadership Strategy Session: https://forms.office.com/r/ZM6Q4h7q9k
If you're doing the internal work to transform yourself as a leader to maximize your impact on your healthcare system – I want something more for you. That is precisely why I got into working with healthcare leaders and leadership teams in the first place.


Join me for a complimentary Leadership Strategy Session (https://forms.office.com/r/ZM6Q4h7q9k) where you'll have a chance to consider your values and develop a strategy to realign your actions with your core values.

Contact me (dr.nicoladepaul@mendinghealthsystems.com) if you have questions or want additional details about this free Strategy Session. And keep in mind...because of the very special nature of this mindfulness-based work, just a few seats are available each month!
Episode comments
1 Rating
eg., What part of this podcast did you like? Ask a question to the host or other listeners...
Generate a badge
Get a badge for your website that links back to this
Select type & size