Back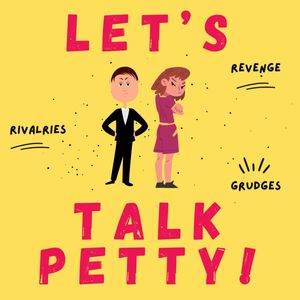 Bette Davis vs. Joan Crawford - If This Dressing Rooms a Rockin' Dont Come a Knockin'
Lets Talk Petty!
5.0
(3)
Episode number 10 already! Thanks to all our listeners to for the support and encouragement they've given us so far.
Todays episode is about the feud between Bette Davis and Joan Crawford. Kate researches this one and actually kind of is impressed with one of them. The levels of petty that these two give out towards each other is off the charts petty. The twitter feuds these two could have gotten into today!
If you have a petty story and would like us to discuss it, please be sure and send it in anywhere below (email preferred). Also, we'd love it if you'd subscribe and give us a review. It helps us a ton!
Support The Show: Buy Us a Coffee
Lets Talk Petty! Teepublic Store: Buy Our Merch
World Wide Web: www.letstalkpetty.com
Twitter: pettytalkpod
Instagram: letstalkpettypod
Facebook: facebook.com/letstalkpettypod
Email: letstalkpettypod@gmail.com
Call/text: 1-904-446-8448
---
Hosted on Acast. See acast.com/privacy for more information.
04/19/22 • 93 min


6 Listeners
5.0
(3)
Episode Comments
3 Ratings
eg., What part of this podcast did you like? Ask a question to the host or other listeners...
Kelli Madden
@kellimadden80
Apr 19
This is definitely one of my favorite feuds. Such divas! Absolutely love it!
1 Like
Apr 19
If you aren't familiar with this feud, it's a crazy story about the golden age of movies and these two who competed to be the top star of their time.
Like
Apr 19
Like
Libel Bible
@libelthebible
Apr 21
Like
Generate a badge
Get a badge for your website that links back to this
Select type & size