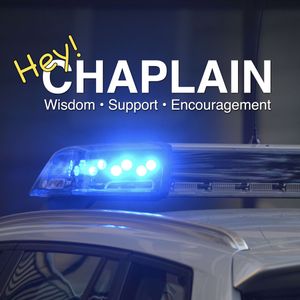 Hey Chaplain
Jared Altic

1 Creator
5.0
(72)

1 Creator
The Hey Chaplain podcast is the place where members of the law enforcement community share their wisdom and experience with the Chaplain so they can encourage others who wear the badge. On Hey Chaplain you'll hear from dispatchers and federal agents, Sheriffs and US Marshals, as well as local detectives and patrolmen. From the LAPD to Scotland Yard, the guests on Hey Chaplain deliver advice and insights so that police officers everywhere can survive and thrive. The host, Jared Altic, has over 25 years of experience serving and counseling military and law enforcement families. The show takes a confident look at both the humorous and traumatic sides of police life, sharing wisdom to create healthy cops both at work and at home. New podcast episodes about police life and chaplaincy are available on first, third, and fifth Mondays of each month. Look for occasional special bonus episodes! Share this podcast with a cop or someone who loves a cop.



5 Listeners
5.0
(72)
2 Comments
Top 10 Hey Chaplain Episodes
Best episodes ranked by Goodpods Users most listened
Show more
How many episodes does Hey Chaplain have?
Hey Chaplain currently has 84 episodes available.
What topics does Hey Chaplain cover?
The podcast is about Christianity, Society & Culture, Resilience, Counseling, Wellness, Podcasts, Police, Business and Careers.
What is the most popular episode on Hey Chaplain?

The episode title '027 - Building a Non-Profit from Scratch: Suzie Sawyer, C.O.P.S. founder' is the most popular.

What is the average episode length on Hey Chaplain?

The average episode length on Hey Chaplain is 33 minutes.

How often are episodes of Hey Chaplain released?

Episodes of Hey Chaplain are typically released every 7 days.

When was the first episode of Hey Chaplain?

The first episode of Hey Chaplain was released on May 31, 2021.

Show more FAQ
Comments
72 Ratings
Claire Sandys
@thesilentwhy
Apr 9
Jared is doing a great job creating awareness of the stress and pressures of police work. Even though I'm not in that industry and live in the UK, I'm loving following his work and the important stories he shares. May it bless many people.
1 Like
May 26
Jared Altic is a tremendous broadcaster and interviewer. Hos podcasts are targeting#LawEnforcementOfficers, But the podcasts are also educational and entertains for #FirstResponderChaplains, #PoliceChaplains, and the #generalpublic ! Jared peaks behind the scenes at the fact police are human too.
1 Like