Back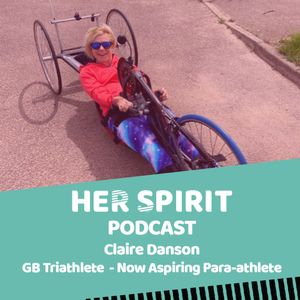 Claire Danson talks openly to Louise and Annie about her life over the last year. A cycling accident one year ago left her paralysed but her zest for life is still as strong. It's a story of going from European champion to life in a wheelchair.
Her Spirit Podcast
In this twenty third episode of the season of the Her Spirit podcast BBC Breakfast presenter Louise Minchin and BBC Triathlon presenter Annie Emmerson talk to Claire Danson.
Triathlete Claire Danson, won the 30-34 age category at the European Championships in June 2019, she was paralysed following a cycling accident at the end of August 2019. Danson is the sister of England and Great Britain hockey player Alex Danson.
Claire was involved in a collision with a tractor while riding her bike. She suffered two punctured lungs, broke a finger, both wrists, the head of my humerus and both shoulders.
She also fractured all the bones in her neck, including a break to one, and had multiple fractures and breaks to every one of my ribs. Unfortunately, she suffered a complete sever to her spinal cord at T9, which means that she is paralysed from her belly button downwards.
Claire's ask is for you to remember that she is still exactly the same person. She still has crazy hair and a mad laugh, she is still the clumsiest person you have ever met and she will still tell the most long winded yet entertaining stories. Her request is to please treat her as the same old Claire. Nothing has changed there.
Her sister Alex says Claire is the most resilient, hard working and inspiring person you will ever meet.
This podcast is so inspirational for anyone and her passion for life and laughing is phenomenal.
**This podcast was recorded on the 1 year anniversary of Claire's accident.
These podcasts have been made possible through the support of Medichecks www.medichecks.com and Sport England www.sportengland.org.
Hosted by Louise Minchin
Her Spirit is a global community of like-minded women all getting fitter, stronger and healthier together. We believe your mind, body and fuel are intrinsically linked and taking small achievable steps will lead to big changes.
Regardless of your ability, location or stage of life Her Spirit has something for everyone. We are an inclusive bunch of women who believe that being fit and healthy shouldn't be a chore but something you love to do. Our mantra is 'Together We've Got This' and together we support each other to live life to the full and achieve mind, body and fuel goals we never thought possible.
Find out more and come and join our community at https://herspirit.co.uk/Join us on Facebook | Twitter | Instagram or download the Her Spirit app!
Episode comments
1 Rating
eg., What part of this podcast did you like? Ask a question to the host or other listeners...
Generate a badge
Get a badge for your website that links back to this
Select type & size