Back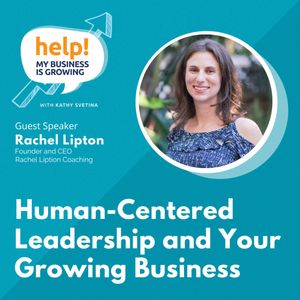 Being a leader is no easy feat.
You're always "doing" because of the never-ending list of things to accomplish in your quest to hit all the KPIs or goals.
It gets even more challenging during times of change and uncertainty.
You have to grow your business successfully, but you also need to ensure that your most valuable company resource, your team, stays happy, engaged, and motivated even when the going gets tough.
However, suppose you're stuck in the "doing space." In that case, your team members are feeding off your energy and following your lead, which could lead to burnout, low employee satisfaction rates, and potentially higher turnover levels, all of which will hurt your finances.
Enter an emerging new concept of leadership - the Human-Centered Leader.
These leaders put employees first, recognizing their fears, frustrations, and needs. They encourage their team's personal growth and provide the resources to succeed professionally.
These will all, in turn, help the business achieve greater - and more sustainable and long-lasting - success.

So how can you become more human-centered in your leadership approach?

In this episode of Help! My Business Is Growing, our guest Rachel Lipton fleshes out what being a human-centered leader means and what it looks like in actual, tangible terms. We also touch on taming our inner critics so you can break free from its limiting messages and effectively lead your team (and their inner critics) and your business to the top.
Rachel Lipton, MPP, CPCC, ACC, is the Founder and CEO of Rachel Lipton Coaching. She has a decade of experience working with organizations to significantly elevate their leadership development and organizational effectiveness strategies.
In this week's episode, we discuss:
03:13 What is our inner critic, why does it exist, and how can we silence it?
05:56 What can someone do to stop or prevent their inner critic from making decisions?
10:30 Does your inner critic come out more when you are in that "doing" mode vs. "being"?
14:35 What does it mean to be a human-centered leader? What does that look like exactly?
18:22 What does being vulnerable in the business sense look like, and are there tips on how to be susceptible appropriately?
Resources:

Rachel Lipton, MPP, CPCC, ACC, Founder, and CEO of Rachel Lipton Coaching:
https://rachelliptoncoaching.com/
LinkedIn:
https://www.linkedin.com/in/rachellipton
Instagram:
https://www.instagram.com/rachel.lipton.coaching/
Email:
rachel@rachelliptoncoaching.com
Kathy Svetina, Fractional CFO:
https://www.newcastlefinance.us/
Blog post | Human-Centered Leadership and Your Growing Business
https://www.newcastlefinance.us/post/human-centered-leadership-and-your-growing-business

Episode comments
1 Rating
eg., What part of this podcast did you like? Ask a question to the host or other listeners...
Generate a badge
Get a badge for your website that links back to this
Select type & size