Back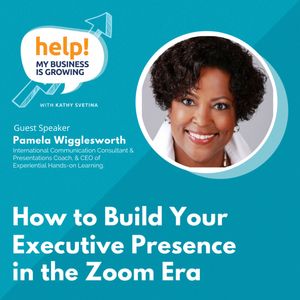 Today, it is our smartphone, tablet, and computer webcams that allow us to connect with our teams as well as suppliers, clients, and sales prospects.

This is the current reality of our daily working lives, video calls and meetings are now the norms.

And since we are keeping it real, distractions - whether you realize it or not - are now also part of your meeting agenda!

The physical disconnect makes it that much easier for your audience to drift away to deal with other work, the dog, the kids, dinner or to take a quick peek at Tiktok.

So how do you keep your audience engaged and how do you ensure they are still taking you seriously from the other side of the screen?

In this episode of Help, My Business Is Growing, International Communication Consultant & Presentations Coach Pam Wigglesworth reveals how you can nurture, build and develop your executive presence. And in this "Age of Zoom," we are currently living through, it is even more critical to have an executive presence and to ensure that you project it when the camera starts rolling.

Pamela Wigglesworth is an American, Singapore-based, International Communication Consultant & Presentations Coach, Speaker, Author, and the CEO of Experiential Hands-on Learning. She works one-on-one with senior leaders, C-suite executives, small business owners, and more to help establish their executive presence; structure a clear, concise presentation message; and deliver their thoughts and ideas with style, confidence, and authority.

In this week's episode, we discuss:
3:07 What is executive presence? And why is it so crucial for business owners or founders to spend time cultivating it?
7:49 How does one build an executive presence?
9:58 Tips on how to get gravitas and executive presence to shine through the camera.
13:52 How do you look at the camera, pay attention to facial expressions, and maintain eye contact with another person?
18:24 How to structure a presentation so that it's engaging and valuable to your audience
26:45 Time-tested tricks to eliminate filler words
30:45 How important is good appearance when working in a virtual environment?
38:58 Helpful books and resources
41:03 How does EQ or emotional quotient tie into executive presence?
44:47 What is the one tangible next step to take to cultivate executive presence?
Resources:
Pamela Wigglesworth, International Communication Consultant & Presentations Coach, Speaker, Author, and CEO of Experiential Hands-on Learning.
Website: https://experiential.sg
LinkedIn:
https://sg.linkedin.com/in/pamelawigglesworth
Instagram: @pamelawigglesworthcoach
Pamela's Free Resources | Executive Presence:
https://drive.google.com/drive/folders/11jYf6UIkV8qKJL3ODx2KAWV0DK-4Cwpd?usp=sharing

Kathy Svetina, Fractional CFO:
https://www.newcastlefinance.us/
Blog post | How to Build Your Executive Presence in the Zoom Era
https://www.newcastlefinance.us/post/how-to-build-your-executive-presence-in-the-zoom-era
Episode comments
1 Rating
eg., What part of this podcast did you like? Ask a question to the host or other listeners...
Generate a badge
Get a badge for your website that links back to this
Select type & size