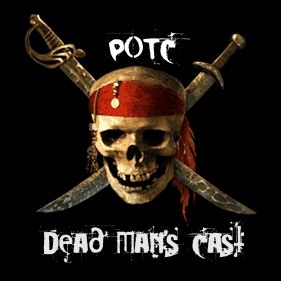 Dead Man's Cast
Captain Jen
Una colección de recetas deliciosas, nutritivas y especiales para la cocina diaria.
Top 10 Dead Man's Cast Episodes
Best episodes ranked by Goodpods Users most listened
01/02/07 • 32 min
DMC #3: Capt. Jack Sparrow:
In episode three of Dead Man's Cast we discuss the recently released DVD, Captain Jack Sparrow, the awards season, and much much more. If you are interested in co-hosting in either Dead Man's Cast or FilmChatter, email Jen at deadmanscast@inbox.com. Please also forgive the over-extended podcast news section. Happy holidays :)
01/02/07 • 32 min
01/02/07 • 8 min
01/02/07 • 8 min
11/07/06 • 23 min
11/07/06 • 23 min
Show more
How many episodes does Dead Man's Cast have?
Dead Man's Cast currently has 3 episodes available.
What topics does Dead Man's Cast cover?
The podcast is about Black, Jones, Jack, The, Podcasts, Will, End, Bill, Tv & Film and Dead.
What is the most popular episode on Dead Man's Cast?

The episode title 'DMC #3: Capt. Jack Sparrow' is the most popular.

What is the average episode length on Dead Man's Cast?

The average episode length on Dead Man's Cast is 22 minutes.

How often are episodes of Dead Man's Cast released?

Episodes of Dead Man's Cast are typically released every 55 days, 21 hours.

When was the first episode of Dead Man's Cast?

The first episode of Dead Man's Cast was released on Nov 7, 2006.

Show more FAQ
Comments
Rating