Back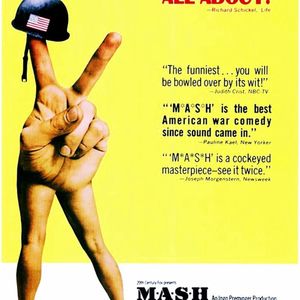 5.0
(1)
Book Vs. Movie: MASH
The Richard Hooker book Vs the Robert Altman Film (with some of the long-running TV series mixed in)
MASH was one of the most popular and iconic television shows of the 70s and 80s (the reruns are still happening all over the globe!). Richard Hooker(nee Hiester Richard Hornberger) based the 1968 novel on his experiences in the Korean War as a surgeon. The novel filled with crazy antics, drinking, and a satire of the U.S. Army fit well in a time when the Viet Nam War was dividing America.
Characters like Hawkeye Pierce, Trapper John, and Hot Lips Houlihan will sound familiar to fans of the series (though they behave differently.) You also meet "the Painless Pole," Ho-Jon, and Duke Forrest in a series of vignettes that make up the novel. It's hard NOT to picture adapting this book as you read it.
Robert Altman directed the 1970 film and it is a very different beast than what was broadcast on television. Starring Donald Sutherland and Elliott Gould, the film is profane, chaotic, modern-looking, and has some very problematic things attached to it.
So, between the original story and the 1970 film-which did we prefer?
In this ep the Margos discuss:
The popularity of MASH around the world
How the Viet Nam War is a stand-in for the Korean War
The differences between the book and the movie and how much the author hated it
The cast: Donald Sutherland (Hawkeye Pierce,) Elliott Gould (Trapper,) Tom Skerrit (Duke Forrest,) Sally Kellerman (Margaret Houlihan,) Robert Duvall (Frank Burns,) Roger Bowen (Henry Blake,) Rene Auberjonois (Father Mulcahy,) Jo Ann Pflug (Dish,) John Schuck (The Painless Pole,) and Gary Burghoff as Radar O'Reilly.
Clips used:
The "Last Supper" scene
MASH trailer
Hot Lips gets angry and is mocked
Frank Burns is teased
Music by Johnny Mandell & Mike Altman
Book Vs. Movie is part of the Frolic Podcast Network. Find more podcasts you will love Frolic.Media/podcasts
.
Join our Patreon page to help support the show!
https://www.patreon.com/bookversusmovie
Book Vs. Movie podcast
https://www.facebook.com/bookversusmovie/
Twitter @bookversusmovie
www.bookversusmovie.com
Email us at
bookversusmoviepodcast@gmail.com
Margo D. @BrooklynFitChik
www.brooklynfitchick.com
brooklynfitchick@gmail.com
Margo P. @ShesNachoMama
https://coloniabook.weebly.com/
Our logo was designed by Madeleine Gainey/Studio 39 Marketing Follow on Instagram @Studio39Marketing & @musicalmadeleine
Episode comments
1 Rating
eg., What part of this podcast did you like? Ask a question to the host or other listeners...
Apr 25
Like
Generate a badge
Get a badge for your website that links back to this
Select type & size