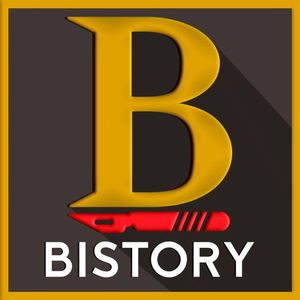 BISTORY - Storie dalla Storia
Bistory
BISTORY è un racconto di vita e di morte: un bisturi che indaga il lato B della Storia, piena di grandi personaggi potenti e carismatici raggiunti dall'oblio o dalla leggenda dopo una fine incredibile. Idoli cruenti, amanti disperati, utopisti condannati, folli creatori di bellezza in un racconto pieno di verità e immaginazione, alla ricerca di quel foglio dimenticato, dove è la Storia a scrivere le storie.
Racconti in parole, musica e misteri, online ogni giovedì sera, ideati e narrati da Andrea W. Castellanza e diretti e prodotti da Sebastian Paolo Righi per NWFactory, la casa dei podcast di NeverWasRadio: un racconto, un brivido, un salto nel passato, una scoperta affascinante.
Top 10 BISTORY - Storie dalla Storia Episodes
Best episodes ranked by Goodpods Users most listened
Show more
How many episodes does BISTORY - Storie dalla Storia have?
BISTORY - Storie dalla Storia currently has 52 episodes available.
What topics does BISTORY - Storie dalla Storia cover?
The podcast is about History and Podcasts.
What is the most popular episode on BISTORY - Storie dalla Storia?

The episode title 'Bistory S03E12 Felice Orsini' is the most popular.

What is the average episode length on BISTORY - Storie dalla Storia?

The average episode length on BISTORY - Storie dalla Storia is 27 minutes.

How often are episodes of BISTORY - Storie dalla Storia released?

Episodes of BISTORY - Storie dalla Storia are typically released every 13 days, 23 hours.

When was the first episode of BISTORY - Storie dalla Storia?

The first episode of BISTORY - Storie dalla Storia was released on Jun 26, 2018.

Show more FAQ
Comments
Rating