Back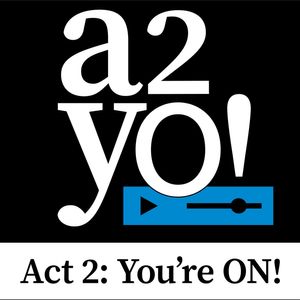 Mental Health Reimagined by Home Base for our Veterans, Brigadier General Jack Hammond.
Act 2: You're On!
In one of our most compelling podcasts ever, in a conversation chockablock full of hard truths on mental health challenges faced by our armed forces, their families as well as our civilian population, you'll meet one of our nation's most decorated leaders and a compassionate, purpose-driven change maker, Brigadier General Jack Hammond.
Do you have a challenging relationship with change? Maybe, you view change as an opportunity for growth. Or, has life forced change out of the challenge in the most unexpected ways? Today we're going to discuss how one organization addresses the profound effects of military service on veterans, servicemembers, and their families. Not only can their unique experiences present a change in their physical health, but often this population faces issues such as post-traumatic stress, traumatic brain injury, anxiety, depression, co-occurring substance use disorder, and family relationship challenges. Today's guest is United States Army Brigadier General retired Jack Hammond. General Hammond is here to help us all learn about the groundbreaking work being done at home base to help heal the trauma.
Brigadier General Jack Hammond is a retired US Army General Officer and veteran of both Iraq and Afghanistan. General Hammond served as the chief executive for Home Base, an innovative partnership between the Boston Red Sox and the Massachusetts General Hospital. It operates the nation's premier center of excellence for the mental health and brain injuries that affect our veterans and their families. General Hammond is a proven combat leader and has led strategic and tactical formations of the US and allied forces in combat and counterterrorism operations in both Iraq and Afghanistan.
General Hammond has advised President Obama's commission on military compensation and retirement monetization and presented at his White House veterans and military family mental health conference. He later served as a member of President George W. Bush's health and Task Force and his veteran wellness Alliance. In addition, Hammond served on Secretary Bob MacDonald's My VA Advisory Committee, Governor Mitt Romney's Homeland Security Advisory Council, and Governor Charlie Baker's health care transition team and veteran advisory council General Hammond's military awards and decorations include: the Distinguished Service Medal, the Legion of Merit medal for combat service, the Bronze Star Medal, Army Commendation Medal for valor to Valorous Unit awards, a combat action band, General Hammond earned a bachelor's from the University of Massachusetts, a master's from Boston University and completed a national security fellowship at Harvard University.
Highlights Include:
"What we do is we have this episodic point of care, where we basically allow the person to hit the pause button on life and focus for two weeks to get better. ...And so that's what we've done in working through with a group of people to build this out was really leveraging the collective intellect of a broader group - cause one person can have a great idea - but a group of people working on a challenge can come up with a fantastic solution."
"Fortune does favor the bold as people look to that next transition in their life. It takes courage because the status quo is comfortable. When you make a change, when you make big changes, it's uncomfortable. And that's deeply rooted in our lizard brains; in our amygdala, change is uncertain and uncertainly provokes fear and triggers base responses to avoid it. You have to fight through that. When you believe there's something you want to do, you've got to summon the courage - and build that courage - to move forward with and pursue your dreams."
Find out more about Home Base at
Homebase.org

Support the show
Episode comments
1 Rating
eg., What part of this podcast did you like? Ask a question to the host or other listeners...
Generate a badge
Get a badge for your website that links back to this
Select type & size